ASH RA TEMPEL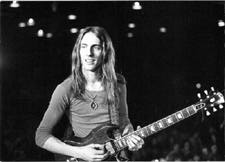 An Interview With Manuel Göttsching
In the legends of the German Cosmic Music era, no name is more revered than Manuel Göttsching, the guiding light and musical spirit behind Ash Ra Tempel and Ashra.
Manuel began his musical life in the Steeplechase Blues Band jamming for fun. When the late 1960's exploded and the first rays of the new age dawned on the horizon, Manuel and his mates, Hartmut Enke bass and Klaus Schulze drums, transformed into Ash Ra Tempel and burst onto the German scene like the blazing solar fire of a cosmic comet.
Their name gave them a larger than life aura and set them apart from other groups at the time. Their music embodied the spirit of the times with its free flowing improvisations and instrumental excursions. The use of cosmological imagery and the German language for their song titles set them apart from the pack who only wanted to copy their Anglo heroes. These "normal" musicians created something of mythological proportions.
This interview sheds light on the man behind the music which still today all these years later has a certain magic that transcends time and space. Listening to it today can still bring a gleam into your eyes and make your ears tingle as it embodies the spirit of a certain time in space when everything seemed possible, and rock music was the lifeblood of our youth.
Archie Patterson / EUROCK
Q: What was the musical scene and cultural atmosphere like in Germany when you formed A.R.T.?
A: The late 1960's - the student's protest and hippie culture splashed over the ocean from the USA. Musically, most young Germans listened to and copied American and, more often, English rock and pop. It was the era of " Beat", "Rhythm and Blues" and a little "Soul".
But, there were a few bands in Germany trying to withstand the Anglo-American invasion. They were creating their own typically German style by turning their backs on common song structures. This was music, made from scratch. Let the good times roll. Many years later people described this music as "Teutonic Railroad Rock 'n Roll".
The main bands came from basically three areas of Germany:
Cologne & Dusseldorf - Can and Kraftwerk Munich - Amon Duul and Popol Vuh Berlin - Tangerine Dream, Agitation Free and Ash Ra Tempel
In addition, there were many more groups who appeared and disappeared.
Q: Was there a special meaning for the name?
A: This beautiful question was always answered by my good friend and partner, bass player in Ash Ra Tempel Hartmut Enke. He could expound for hours about the meaning and symbolism of those three words. In short:
Ash - (an English word) the ash, the remains, the final curtain? Ra - the Egyptian Sun God, the energy, the source of our lives Tempel - a place for rest and contemplation (written in the German idiom)
Musically we were just a three-man band in a traditional line-up: drums, bass, guitar and heads full of inspiration. I felt personally that, at least, no other band on earth would show up with a name as strange as that and music the same.
Q: Your first album was released by the OHR Records label. How did you get connected with that company?
A: Our concerts then were quite successful, if not legendary. Some of these performances are documented on the 6 CDs released as THE PRIVATE TAPES. Klaus Schulze played and recorded with Tangerine Dream on their first album ELECTRONIC MEDITATION for OHR Records one year before in 1970. So here we got our connection.
Q: What was the story of OHR Records. Who founded it? Who decided about what groups to record? Who did the artwork? Was it a co-operative group of musical people, or more like a normal company where the artists only do what the owner tells them to do?
A: Even in a "normal company" no owner tells the artists what to do. At least I don't know such a company. Also, I don't know any artist who only does what the owner of a company tells him to do. (A sentence by Klaus Mueller).
OHR Music was founded in 1970 by Rolf-Ulrich Kaiser and a successful German "Schlager" publisher and producer Peter Meisel, as a label for new German rock music, such a label at this time was revolutionary. Today we are used to hundreds of small labels for all kinds of music. In 1970, I repeat, this was a revolutionary task. The label lasted 4 or 5 years. During this time many other labels were founded by all the major companies in Germany.
The daily business was done in fact by the driving force behind the label, Rolf-Ulrich Kaiser, whose genuine spirit explored the new trend a little earlier in time, when all of his "colleagues" within that branch were still snoozing. Peter Meisel gave the financial support and business structure.
Artwork for our albums was done by friends. The cover for SEVEN UP was painted by Walter Wegmuller, who later designed a new set of Gypsy Tarot cards for the release of a special album called TAROT. The cover of JOIN INN was made by a painter from Cologne. For the covers of the "Cosmic Couriers" series Rolf-Ulrich Kaiser employed a designer of his choice.
Q: Later OHR Records turned into the Cosmic Music label and the owners were reportedly very fond of Timothy Leary. How much did drugs have to do with the music in those days?
A: "Cosmic Music" was a branch of OHR. "The drugs" had actually little to do with the music (nor with the label), but they were present, as they were present at this time in general. I speak of marihuana/hashish, which were very popular in those days. Everyone under 30 smoked this and that, the elders did so years ago, and still the rivers flow.......... Drugs have been and will be a part of life, not necessarily because one is a musician, a painter, an architect, or a psylocybinien? They were around and took a great part of my time, but there was another drug that I fell in love with: *MUSIC*
Q: In the mid 1970's A.R.T. dissolved and you did a lot of solo work. The music became less rock and more electronic. How did your musical ideas change?. What gave you the idea of doing solo electronic music featuring mainly guitar?
A: The influence of electronic equipment in producing music grew rapidly in those years. I was fascinated by these sounds, but even more I was addicted to the idea of sequencing those sounds into continuous musical compositions.
I owned just my old Gibson guitar plus a few effects units, I asked my producer (Rolf-Ulrich Kaiser) to buy me a 4-track (TEAC) and 2-track (Revox) tape machines. I began to build my studio. I needed time, time for experiments, time for reflecting on the years that had passed, time to call for augurs.
What a trip it became. I created music with a minimum of equipment. The resulting music resembled the sound of sequencers and synthesizer, but was played with a single guitar. I recorded backwards, with the tape machines at double speed, half speed...... I tuned the strings differently and fell in love with my dynamic pedals, which could, if you pluck a string, cut away the attack, and with the aid of lots of echo, I found my floating sound. Naturally, the echoes and delays were creating this "sequencing" effect (thus reflecting the trend of those days).
For sure, I am not the only musician at that time who knew about and played with these techniques. I only wanted to create music that was strong and profound enough to escort me into my future life.
Q: Not only the sound of your music changed, but the record company ceased to exist a short time later. What happened to the "Cosmic Couriers"?
A: From 1973 on, many groups like Tangerine Dream, Klaus Schulze, Popol Vuh wanted to leave the company. Finally, this led to law-suits that the company lost. Maybe this story deserves a better explanation, but "all good things must pass".
I still recorded STARRING ROSI and INVENTIONS for the label, then I left in 1976. Rolf-Ulrich Kaiser, together with all of his labels vanished, probably floating into the cosmic zones, as he never turned up again in music, or any other business.
Q: Did the music scene and overall social atmosphere in Germany change at that time?
A: The "Punk" era began around 1977. Virgin Records signed the Sex Pistols. Their influence was evident.
In Germany, at the turn of the decade, the atmosphere had changed completely. Now, the music was called "Neue Deutsche Welle", (NDW = New German Wave). But contrary to our first musical adventures 10-12 years back, this music was highly successful in a commercial sense.
Regarding electronic music, a new trend was the so called "synthie-pop", mostly led by English bands like Human League or Orchestral Manoeuvers in the Dark. Of course these new trends attracted the bigger record companies, and many new, small labels saw the light as well.
Those hippie, cosmic days were gone. (Funny, but this spirit re-emerged some 10 years later - although in a different costume - with the rise of "techno", "house" or "rave" music).
Q: After your solo album INVENTIONS it was a while before you did another album and then you formed the group Ashra to do several records and perform live. Why/When did you decide to form another group and work with Harald Grosskopf and Lutz Ulbrecht?
A: After the release of INVENTIONS I wanted to reform the band. Lutz Ulbrich joined me and together we performed a beautiful concert in Paris in December 1974. We toured then as a duo in France and England during 1975. At the end of the year Lutz quit to accompany Nico (the legendary "femme fatale" of the Velvet Underground) during her concerts of 1976.
I began recording a solo album again, NEW AGE OF EARTH, and did a tour as well in December 1976. These performances as a soloist were quite an experience for me. In the beginning of 1977 I signed a long term contract with Virgin Records. When NEW AGE OF EARTH was released worldwide in Summer '77, Virgin wanted a concert in London. I again asked Lutz Ulbrich and also Harald Grosskopf to join me. I had known Harald from the Cosmic Couriers sessions and he had also played on the STARRING ROSI album in 1973.
Q: Your albums NEW AGE OF EARTH and BLACKOUTS are considered by many as the first electronic new age albums. How did you come up with the particular concept or sound for those albums? Was their any other musician or style who perhaps influenced your musical ideas?
A: I started my musical career as a guitar player. After producing INVENTIONS FOR ELECTRIC GUITAR, I decided to expand my equipment in order to create compositions for keyboard and synthesizer. This was a new thing for me then.
A substantial influence in my style came about in 1974 with the discovery of so called "minimal music" by composers like Steve Reich, Philip Glass and Terry Riley. Especially Steve Reich's music, I have listened to it for many years. He is a genuine innovator in terms of creating music that combines the elements of improvisation with structured composition.
Q: In the 1980's you seemed to disappear from the scene. What happened?
A: By the end of the '70's the style and politics of Virgin Records as I mentioned before had changed. After CORRELATIONS in 1978/79, BELLE ALLIANCE in 1980 was the second recording with Lutz Ulbrich and Harald Grosskopf. I felt it showed the great variety of styles the band had to offer. I was rather disappointed with how little attention they gave to the release of the BELLE ALLIANCE album.
In 1981 I played a long tour as a guest with Klaus Schulze. Inspired by those daily live performances, in December 1981 I went into my studio and recorded the music of E2 - E4. It took me exactly one hour, no overdubs, no editing. The only alteration I had to make was to cut the piece into two parts for the LP format as there were no CDs in those days.
I half-heartedly offered E2 - E4 to Virgin Records in 1982 as I didn't trust them to promote it properly. I was lucky, when at the beginning of 1984 my old friend Schulze started a new label, "Inteam Records" and wanted to release it. This record gained a great deal of attention at the end of the '80's in the "house", "techno", "dance-floor" scene as dozens of re-mixes were made and many parts were sampled (including the very successful "Sueno Latino" by an Italian group of musicians and DJ's).
Q: Now in the 1990's it seems you have re-emerged from retirement. You have had your entire catalog reissued by Spalax in France. Several albums of unreleased music have also come out and now the PRIVATE TAPES Special Edition is about to be released. Does the music you made in the past still sound good to you today? Do you have any plans to record a new album to celebrate the coming millennium?
A: From 1985 on, I worked again with Lutz and Harald. During that year we played a concert in England and recorded the basic material for TROPICAL HEAT, which was finally released in 1991.
In between, in 1988, I had performed with Lutz Ulbrich at the Berlin Planetarium. The music was especially composed for the event and included lyrics as well. The four main themes of that composition (without the lyrics) were then released in 1989 as WALKIN' THE DESERT. In May 1991 I performed again with Lutz and Harald in Cologne. It was a nice open air concert in the evening, in front of the Cologne Cathedral. The show also featured Klaus Schulze (we were only missing Tangerine Dream). It was sponsored by a radio station and the City of Cologne to honor a man whose weekly radio program had supported our music for more than 10 years.
In 1993 I began to work with Lutz on a new, guitar based album. It should be in the style perhaps of INVENTIONS, but also incorporate the techniques of the '90's (reflecting the "German" atmosphere of today as well).
Yes, I like the reissues. That music directed my life. When I am sitting, thinking, wondering how all that came about, I choose an old tape and I begin to remember.
Well, I'm a king bee, baby. Rollin' on and on and on...........(like a German VW - if you know what I mean).