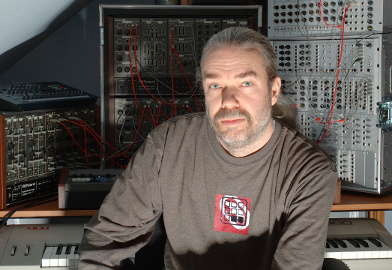 Ian Boddy INTERVIEW
Q: What was the very first record you ever bought?
Well, I'll try and remember but it's been a while. I think the first song that ever really grabbed my attention was Spirit in the Sky by Norman Greenbaum released in 1969. However, I don't think I actually bought that so in racking my brain I've come up with Silver Machine by Hawkwind. I remember hearing this on my dad's car radio on a long hot drive to our family summer holidays and thinking it was amazing. That would have been 1972, so I would have been 12 or 13 at time.
Q: How did you turned on to electronic music?
That would have been about 1974 or 75, so I would have been about 15 or 16. I remember hearing two tracks on the radio. The first was Mysterious Semblance at the Strand of Nightmares from PHAEDRA, which I distinctly remember being played by Alan Freeman on BBC Radio 1 on a Saturday afternoon. The other was the closing 10 minutes or so of Wahnfried by Klaus Schulze from TIMEWIND played on a local Northeast radio show at one o'clock in the morning. I'd simply not heard anything like these pieces. They sounded like they were from outer space and not produced by human beings at all, I was hooked.
Q: How did your first album come about?
Mt very first recording was IMAGES was released on the UK cassette label, Mirage, this came out in 1980. I was simply asked if I wanted to release it by Martin Reed who owned Mirage and had amongst others on his label Mark Shreeve. My first proper record on vinyl was THE CLIMB, which was released by a local record store called Volume Records. They used to sell a ton of electronic music albums and wanted to set up their own label, so as they knew me and asked me to release it as the labels inaugural title in 1983.
Q: You were one of the first UK EM artists and have been successful in several areas, producing a diverse number of productions. How many different music projects are you involved in now?
Well I always have something on the go. I believe that if you want to make a living from music as I do, it's best not to put all your eggs in one basket. I've just returned from performing a concert as part of Redshift at the ninth Hampshire Jam festival in the UK, which went very well. So on returning to my studio I'm now working on a series of film trailer pieces for a LA based film music production company. This is a very different discipline as the tracks are only 45 seconds to a minute long. However, the money I make from my library and film music effectively earns me a living so that I don't have to worry too much about my DiN label and I can concentrate on the artistic merits of releases there rather than purely financial considerations.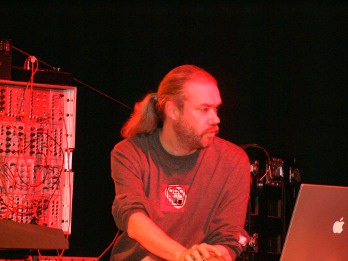 Q: Has the global economic slowdown the past couple years affected how you operate in any way?
In a word no! To be honest I'm quite amazed by this although I'm certainly rather relieved. I think this is due to not being in the manufacturing sector. Most of my income is royalty based and I've got so much content out in the field spread across CD's & download music, sample libraries and of course my film & TV music that there's always some income coming in.
Q: Tell us about your new release PEARL, and what's on deck for the future?
PEARL has been a special release for me and 2010 marks the 30th anniversary of my first release on cassette way back in 1980. I just felt that I had to mark this event in some way. Therefore, I dreamed up the idea of releasing PEARL as a special Dbl CD limited edition set. Although DiN has followed a fairly rigid graphic design ethos I really wanted this release to look special, so it's been released in a beautiful 6 panel digipak with the first 300 of the 1000 limited edition run being signed and numbered by hand.
There are two discs, the first OUTER DiN covers all my work outside of DiN and thus includes tracks from my vinyl & CD releases and even a couple of tracks from my early cassette albums. There's also three of my library music tracks on there and even some of my sound design work. The other CD is INNER DiN and includes tracks from all my solo DiN albums, plus one track from each of the collaborators I've worked with in DiN which includes the likes of Mark Shreeve as ARC, Robert Rich, Chris Carter & Markus Reuter. I'm certainly very proud of it. Looking ahead, I'll certainly keep DiN going for the foreseeable future despite the worldwide drop in CD sales. Current projects in their early stages are two separate collaborations with Steve Roach & Erik Wollo, which I hope will come to fruition in 2011.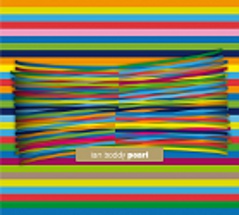 www.ianboddy.com