AskaTemple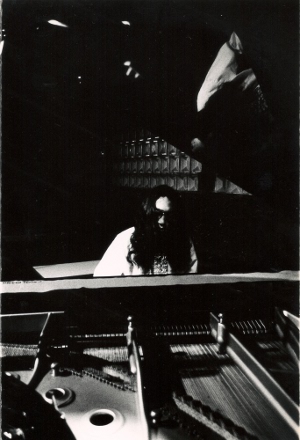 John Ubel (1996-2012 Oct.20th)
One of the most provocative bands and musicians I have come across in my years spent chronicling the world scene of experimental and underground music is AskaTemple and group leader Muneharu Yuuba, whose stage name was John Ubel. The band name, derived from the small village he lived in also makes reference to the spiritual and shamanist mysticism of his music, which contains strong influences from the psychedelic era.
Around 2005, I was contacted by Muneharu and we remained in contact until 2010. He sent me 30 some releases of his solo and AskaTemple music. They were all very LTD Editions, often packaged in incredible laminated mini-LP sleeves, with elaborate collage graphics and disc screens making use of sacred and heavenly images.
Muneharu also sent me a 40-page story written in English. The subject was what I believe to be his life as a child and up to 2010. It was titled: From the Dark Side of the Moon: The History of Muneharu Yuuba Recovering from Mental Disease by Johann Sebastian Matthew Zdbac Ubel. It was somewhat hard to follow, but absolutely compelling. Reading it was disorienting\ as it seemed perhaps translated from Japanese into literal English, which served to create a sense of confusion in terms of the exact meaning and subject matter. It was like piecing together an elaborate puzzle simply from words and clues.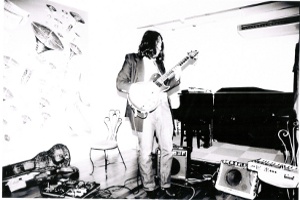 The music was otherworldly, filled with swirling extended celestial guitar excursions, often 30 to 60 minutes in length, accompanied by heavy pulsing rhythmic backing. Contained amongst the multitude of albums were many moments of truly transcendent psychedelia and space rock. Often it sounded as if Muneharu himself was playing in a trance-like state, his band members kept the beat relentlessly serving as a hard beating pulse propelling the musical energy ever higher.
Nicolai Maruhama the keyboard player for AskaTemple, very recently contacted me. He joined the band in 2004. A musician in his own right, he is a progressive rock keyboardist and member of the JSPA (Japan Synthesizer Programmers Association) headed up by Hideki Matsutake (Ex, YMO). He recently performed an elaborate new work with a Japanese Priest based on The 9 Headed-Dragon God Vasuki. The climax featured thunder and rain pouring down on the stage. He is now recording it for tentative release in 2013.
Nicolai wrote to inform me that Muneharu had died. I was shocked and sad. I asked him to write an article that would tell his story as best as he could explain it. His music was radical and virtually unknown outside Japan. The spirit it contained was powerful and unique. It transcended the realm of simply being music, striving instead to use sound as a vehicle to communicate on a higher level of emotion and consciousness. Today there is no more underground spirit. In todays world technology for the most part has made music a redundant commodity saturating the ether.
Muneharu passed away at the age of 46 years old. Though a virtual unknown internationally, it is nonetheless a loss to the world music scene today in more ways than we can know. In this age of media saturation and stylized replication, it is rare that such intensity of emotion is conveyed as is evidenced in the music of AskaTemple. Be it his guitar playing, synthesized guitar compositions or band recordings, the music was devotedly non-commercial and filled with a depth of passion and inspiration that is sadly missing today. The music of AskaTemple was created by an artist who lived in a small village and worked outside the realm of daily life as we know it. Hearing it in this day and age offers listeners a chance to experience something truly unique.
AP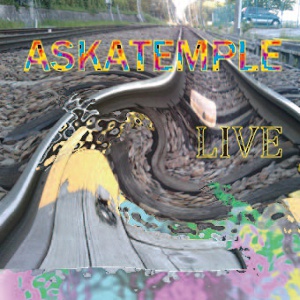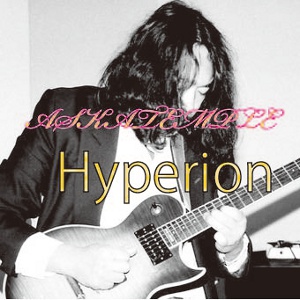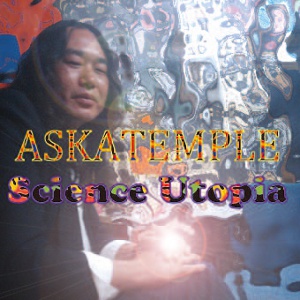 The Story of AskaTemple
AskaTemple was a psychedelic prog rock band led by John Ubel. In the beginning known as Prisoner No.6, the group underwent metamorphosis in personnel over time as a well as a radical evolution in their sound. Many musicians participated and gave the Kansai underground performance music scene a big shock.
The sound of Prisoner No.6 was in the vanguard of the Japan avant-garde music scene. Their primary focal point was Nobuyuki Ozaki dynamic, radical vocals and John Ubel eccentric guitar. Their live performances were extreme on stage. Breaking a beer bottle, vomiting and throwing it to the audience, breaking the guitar and at a private art exhibition they destroyed almost all the pictures by Nobuyuki Ozaki. Their initial performances on stage were very destructive. During their latter phase, Prisoner No.6 began exploring electric psychedelic music, beginning around 1996 the band gradually faded from the scene. In 2011, they played their final concert.
In 1996, John Ubel formed a new band named AskaTemple. Their sound was completely different from Prisoner No.6. They played loud continuous swirling mix of psychedelia overloaded with waves of guitar feedback and droning sound. Their music evoked the sound of a world filled with insanity and beauty. I joined the band as keyboardist in 2004, since then the AskaTemple sound featured more influence from Progrock.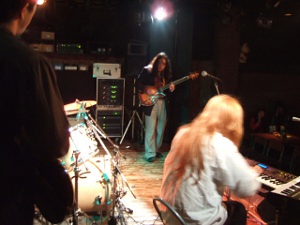 On Stage, John Ubel dragged the audience into his cosmic world and changed the dark, small and sometimes dirty, live venue into a Huge Megellanic Cloud of sound. The radical performances of the Prisoner No.6 era disappeared replaced by the mysterious aura of John Ubel, who wore the white wedding dress while playing weirdly on the stage. The backdrop featured a striking visual performance on screen. The combined spectacle created a rainbow colored aura over the performance space. The overall effect transformed the music and performances of AskaTemple into an ethereal seance. Sachio Hata was the creator of these hallucinogenic psychedelic illuminations.
Mainly AskaTemple performed at Namba Bears. They also often performed at Okayama Pepper Land, Himeji Mashroom and so on. These were the sacred places of the underground music scene in Western Japan.
John Ubel was physically tall and had long dark wavy hair. He composed the music in his Nichts studio at ASKA village of Nara Pref. (a very quiet village). The albums were recorded in this harmonic environment, but the air in the studio was shrouded with cigarette smoke. You could not see anything beyond 2m around you. I imagine the wild birds circling the studio also may now suffer from lung cancer. The giant Space sound of the music was fuelled using black coffee as an energy source.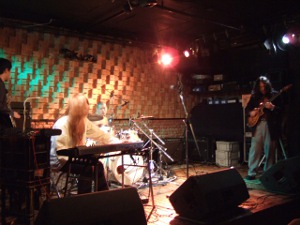 The songs of AskaTemple transcended the level of simply to become music that evoked the spiritual essence of John Ubel himself. His music seemed improvised, but amazingly when played live on stage, the songs were always the same as the recorded version. When the Richard Pinhas band came to Osaka in 2006, AskaTemple performed as the opening act, playing the music exactly the same way as during rehearsal. I asked John, Do you ever make a mistake once in the while? and he answered: I never make a mistake during a live performance, because I am the song itself." That was an incredibly impressive episode for me.
His life, like his music itself was full of mystery, from beginning to end. In general, his strange experiences that he wrote and talked about were hard to understand and in some unorthodox way artistic. They often appeared to be highly unrealistic experiences. I asked him the truth of his experiences once, Is that a true experience that you really had? He answered, At least it happens actually in me and I can't judge whether it's true or not for me physically..." He also added that he came to know things by using a special otherworldly method that he developed. Perhaps due to all that, he experienced a form of suffering, as ordinary people could not understand what he was talking or writing about.
What did he say? If you are interested and understand Japanese, you can read the ASKATEMPLE BBS @ http://8102.teacup.com/johnubel/bbs. There you will find his short novels that perhaps reveal his real experience. It is unfortunate that the Japanese media, especially music culture publications, never printed his writings.

On October 20, 2012, John Ubel passed away at the age of 46 years old. A myocardial infarction was the cause of his death. A day before his death, he announced good-bye on the social networking services. In fact, he actually did die the day after his announcement. It is believed that no one can foresee his or her death. I guess John Ubel knew his death was imminent using his special method. This is only one of his strange stories that people cannot understand.
Nicolai Maruhama 2012 Nov. 07
Photos by Sachio Hata
Read the Eurock AskaTemple Interview @ http://www.eurock.com/features/ASKAtemple.aspx