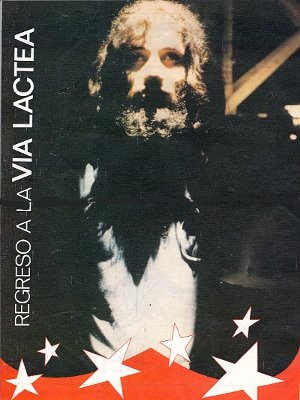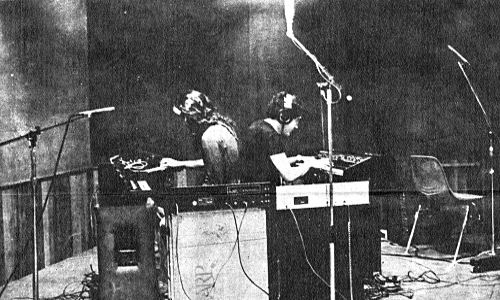 Live @ The First Encounter Festival of Mexican Rock

Carlos Alvarado Interview 1980
Carlos Alvarado is a Mexican musician who has been working for many years in the field of electronic experimental music. At one time he was part of the band Kroll Voldarepet Knackt Didactico, until he left to create Via Lactea (Milky Way) with Miguel Angel Nava. This duo made several presentations. Recently, Carlos became the sole member as Miguel went on to form a new band, Trombatron.
Alvarado is also part of Chac Mool. They recorded the album Nadie en Especial (Nobody in Special). Beforethat he collaborated with Decibel, which released El Poeta del Ruido (The Poet of Noise). Carlos has made numerous solo recordings, and many of his casettes sell in Europe and the United States through Archie Patterson's Eurock magazine.
Carlos has recently been working in his recording studio on a new musical Project, Via Lactea's first LP, tentatively titled Via Lumiere. Among the people who are participating are his wife Herminia, Jorge Reyes (Nuevo Mexico, Chac Mool) & Arturo Meza.
Just two weeks ago, Carlos came back from a succesful trip to California where he went to promote the new Mexican Rock Music that is beginning to happen in Mexico City. He wnated to establish contacts for record and tape distribution and perhapslive concerts. So we thought that this was a good opportunity to have a small interview about experiences in Los Angeles and what his plans are now.
Can you please talk about your experience with Chac Mool?
Chac Mool's record is commercial music and I think the whole concept was possible thanks to Pepe Navar, who worked very hard on promotion to see that it was recognized in the media, which is without precedence in the history of Mexico. He chose the album cover, produced the LP, etc.
What is the difference between Chac Mool & Via Lactea?
Chac Mool helps me live, but Via Lactea feeds my spirit. Presently, Via Lactea is just me since Miguel Angel left top lay a more jazz style of Music like Weather Report, Chick Corea, etc. Now I have in mind to invite friends to my concerts to create different musical events. Recently, in a concert at the Great Universal Fraternity (La Ferriere, which I belong), Alex Eisenring, guitarist of El Queso Sagrado (The Wholy Cheese) participated with me, so I have in mind to do some other experiments.
How is the situation for alternative distribution in the United States?
It all started when I sent a concert tape of Via Lactea & Decibel to Archie Patterson, editor of the North American magazine Eurock (which specializes in new music, experimental, free jazz, etc.). He liked it a lot, and shortly after he was distributing many of my tapes, he published an interview about my music. I think Archie is a great alternative for the distribution of Mexican experimental music. Now that I was with him, he was more than ever interested in Via Lactea, Decibel, etc., and he is going to distribute Mexican records and tapes. He is an open channel for anyone that makes non commercial music. In addition, he is a great source of information and music for our readers to acquire records and tapes from European, Japanese and many other bands making experimental, progressive & avant-garde music, from many other countries.
What are your impressions of the people that have bought your tapes?
It has given me great satisfaction that someone in France, or any other country in Europe is interested in my music, that they like it and they write me asking for more information. Here the musical scene is shameful.
What are your plans for the future?
Like I mentioned, to have more concerts with friends in other bands (Queso Sagrado, Decibel, etc.), and to release my first LP as Via Lactea. All of the sudden I have become aware of all the contacts and music that is avaialble all around the world, so can see that the possibilities are infinite.
Via Lactea Original Cassette Releases
Carlos talks in this interview about his first visit to me in Los Angeles, which was one of the biggest surprises and wonderful experiences I've had in my long years of meeting new music friends. He arrived with gifts and many exotic sounding new cassettes by artists I'd never heard of from way down south of the border in Mexico. I was astounded and amazed as he opened my eyes to a whole new world of exciting and creative experimental music and musicians.
From that first visit flowed other music people and contacts with stores who bought music for sale as well. In some sense it was the beginning of what has turned out to be a long friendship between me and Carlos, as well a continuing magical musical trip of discovering new friends and fascinating music throughout the subsequent 40+ years.
I thought it would be be a good idea now to share with you the original recordings he gave me on a series of cassettes that I sold many moons ago. I have done a little basic sonic cleanup so they actually now sound even better. As I did that I was once again amazed at how incredible the music of Via Lactea was way back in those halcyon days of the early 1980s, and in fact is still very far out today.
Listen & Enjoy! Archie Patterson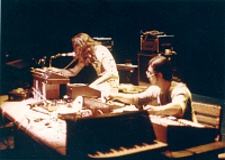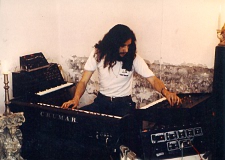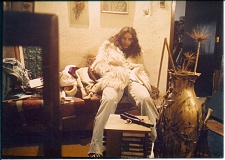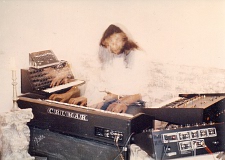 Via Lactea Live RIO 1979 ~ Via Lactea Live 1980 ~ Via Lactea Live 1981 ~ Via Lactea Live 1982

2013 Update
In September 2103, Carlos premiered a new album, the 12th release on his Momia Records label.
Below are photos taken at the concert in Mexico City where he performed his new music.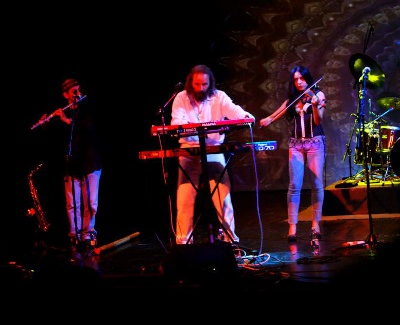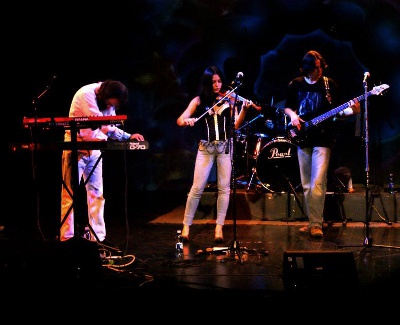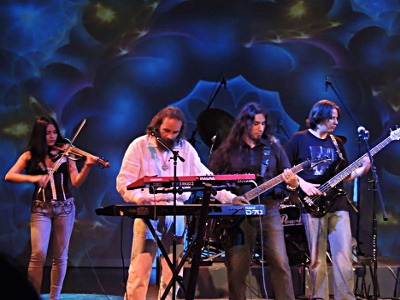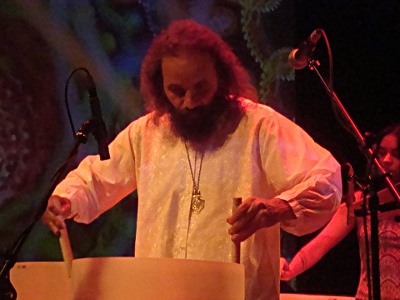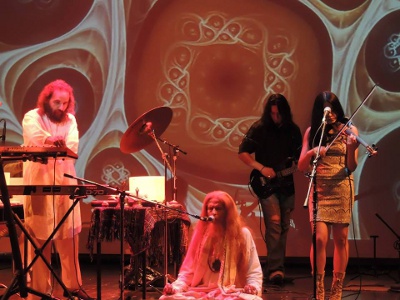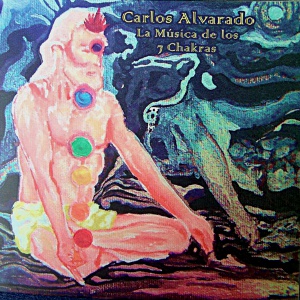 La Musica de los 7 Chakras (MCD12)
Momia Records Catalog 1980-2013
MCD01 Via Lactea - Via Lumiere, MCD02 Vector Escolpo - Repression, MCD03 Decibel - Contranatura, MCD04 Carlos Alvarado - Archivos
MCD05 Conquista Y Destruccion De Mexico Tenochtitlan, MCD06 Decibel - Mensaje desde Fomalhaut, MCD07 La Musica De Erich Zann
MCD08 Via Lactea - 1977-1997, MCD09 Decibel - Fortuna Virilis, MCD10 Chac Mool - El Mensajero De Los Dios, MCD11 Ensemble Dentro La Nada
[Special Thanks for Materials & Translations - Carlos Alvarado & Alejandro Ceballos]
Eurock 09.29.2013
Used by Permission