EUROCK ~ European Rock & the Second Culture PRESS CLIPS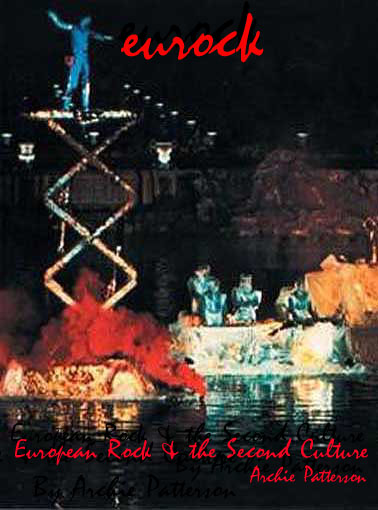 The Eurock Book is hot off the press and published by Archie Patterson/Eurock of Portland, USA. This book looks stunning and is filled with 714 pages of cosmic prose. The Eurock Book is an in depth history of Eurock, and the European experimental music scene along with coverage of progressive music from other non-Anglo and Eastern bloc countries. Written on the fly as it happened, the Eurock Book is a living document of a culture in flux, with controls set full throttle into the heart of the future.
Wasco @ 3am.blogspot.com August 2003
Eurock magazine was the bible for many years in the world of European rock and electronics. This large volume book of over 700 pages and numerous pictures, contains almost all of the major written articles that appeared in those magazines over three decades, plus some recent additions up to 2002.
In over thirty years Eurock has become the voice of cosmic music, krautrock, ambient and many more musical genres. This lavishly put together book contains an enormous wealth of information from the major players past and present, including Klaus Schulze, Tangerine Dream, Ash Ra Tempel, Popol Vuh, Can, Magma and many more bands and artists who struggled to get recognition on the musical stage.
This has been a colossal undertaking on Archie's part, who's dedication and enthusiasm, still to this day is second to none. This is one of those books that every EM/ progressive fan should have in their collection, a serious buy.
Mick Garlick - SEQUENCES #28 June 2003
Well, Mr. Eurock, Archie Patterson, 'the godfather of progzines', apparently heard my complaint and decided to fulfill my wish from which we now have the results. And what a result! A book of over 700 pages (that is 2 inches thick), crammed with information. When Archie sent me the book he said, "It might take a couple of hours to get through it mate..." And indeed, I'm still not done reading everything.
The book contains an enormous collection of articles and essays, mostly published before in Eurock magazine, between 1973 and 2002. The articles can be found in chronological order, but a good index rounds off the book, so searching for information about a band or subject is easy.
I find it absolutely thrilling and fantastic to finally have a book that features decent (or even extensive) articles on bands like Wigwam, Savage Rose, Omega, Heldon, or Tasavallan Presidentti to mention just a few.
Without any doubt this book is a must for any serious prog fan; or krauty kinds. And its early parts are a great document of the (progressive) counterculture and its heritage. Most highly recommended!
Carsten Bush ~ BACKGROUND MAGAZINE #82 June 2003
As he tells us early on, Archie Patterson was raised on records. Music is such a big part of his life that he turns out to be the right man at the right time. Because, while the U.S. might have been drowning in disco during the 1970s, Europe was the home of some of the most compelling, innovative and advanced bands to ever perform or record. Compelling and important enough to lead to the publication of Eurock, which stands far apart in the world of fanzines as an authentic journal of the people, the bands and the ideas that continue to inform and shape the many forms of alternative music today?
Organized by years, from 1973 - 2002, this book provides information about virtually every important and not-so-important independent and alternative artist you could hope to read about from Europe, the U.S., Japan and points beyond. But much more than music comes through. As the title implies, the writings in this book are part of a time of profound cultural change which was in many ways inseparable from the music in question. Patterson asks us to look not only at the music, but at the social and cultural context of what helped make such music possible, and do so through the voices of the musicians and their audience. It is this aspect of "Eurock, European Rock & the Second Culture" that makes it such an important and authoritative collection of thoughts and observations of music and how music operates in the world. And what you'll find is simply that what mattered in the early 1970s continues to matter today, and will always matter to those that understand music to be more than entertainment or distraction.
Kerry Leimer ~ Amazon.com June 2003
The underground exploits of Archie Patterson (and staff) have finally found their way into consolidated print with this 770-page publication of the roots of 70's European progressive rock.
Highlights of the book include early features on Amon Duul (1973), Faust and Guru Guru (1974) and interviews with Italian groups such as Nova (circa 1978) that details the bands early history with Osanna. Even more obscure groups such as Neu!, Wallenstein, Jane, Wigwam and Kraan receive equal press and priority in the Eurock scheme of things. Of special interest is the inclusion of the public disbanding notice from Henry Cow, presented after an excellent feature documenting the RIO international scene.
As the 1970's faded, Patterson's pre-occupation with the scene didn't sway; it merely deepened as the scene went back underground where it began. Artists such as Cyrille Verdeaux, Holger Czukay (Can), Pekka Pohjola and Richard Pinhas (Heldon) were not making inroads on the continent and it seemed Eurock was the only magazine left dedicated to tracking the movements of these essential artists. 1982's issue chronicled one of the first writings on Lars Hollmer's activities with Samla Mammas Manna. The advent of urban sax is also detailed in an article from 1984 when performance artistry was the mode of the day.
The 1990's expanded the scope of the journal to a worldview as articles on Brazilian music and minimalism crept into the magazines scope. Across the span of years it is clear that as musical trends changed, Eurock stayed true to its core audience...
If you are looking for the ultimate reference guide to the scene by people who were present when it happened, look no further.
Jeff Melton ~ EXPOSE #26 February 2003
EUROCK: European Rock & the Second Culture edited by Archie Patterson is similar to the Billboard one, in that it compiles all the issues of Eurock magazine, along with new updates from 2000 and 2002.
Choice items include the Gille Lettmann (of the Cosmic Couriers) article, features on krautrock (when it was happening), and extensive coverage of the French, Italian and Scandinavian scenes. Pages 1-16 feature and Amon Duul article by Lester Bangs and an article about Archie himself. The 2002 section accounts for 90 pages, and consists of interviews with: Mark Shreeve, Radio Massacre International, R. J. Stips, Mythos, Florian Fricke and lots more...
Alan Freeman ~ AUDION #47 January 2003