ASKA TEMPLE
ASKA TEMPLE is a re-discovery of music past in many ways.
In the early days Eurock was inspired by the explosion of rock experimentalism coming out of continental Europe, the mutated strains of US and Anglo psychedelic/ progressive innovations.
Time passed, the world turned, and the mode of the music changed with the advent of technology, development of the "multi-market", and a generation shift. To an incredible extent the spirit of creativity has been diminished.
Upon first hearing the Japanese "band" ASKA TEMPLE (the group moniker for the music of one Muneharu Yuuba, aka, John Ubel), I was stunned that something could flash me back so strongly to the sound and fury of pure creativity that I had heard in early "krautrock". It was extreme, improvised and filled with pure cosmic energy. Further exploration of the large catalog of releases by the "band" on the NICHTS Records label increased my interest. I found the music, creative approach and artistic presentation embodied in the whole "concept" fascinating.
In addition to ASKA TEMPLE, Ubel plays in a Japanese Scum rock band named PRISONER NO. 6 that explores the outer edges of "rock 'n' roll". His talent for musical creation is vast.
I subsequently made contact with him. This interview and label rundown attempts to offer a glimpse into the mythos - story and music - of ASKA TEMPLE. For historical perspective I've done a capsule review run down of the 22 titles released on the label to go along with this interview, trying my best to convey the spirit and make valid comparison to the early German pioneers. All CDs are now sadly OUT OF PRINT!
A~
John Ubel INTERVIEW

Q: At what age did you first listen to music?
A: At about 4 years old, I liked to sing for fun the Beatles song YELLOW SUBMARINE in Japanese.
Q: Do you remember who your favorite band was in the early days?
A: The Bay City Rollers
Q: What was the first instrument you played/ at what age?
A: A guitar, the Les Paul, JEFF BECK model, made in Japan. I earned the money for by it delivering newspapers at 11 years old.
Q: When did you form your first band?
A: At 13 years old with some school friends.
Q: What was the name of your first band, and what kind of music did you play?
A: The first band was called PARANOID. We played hard rock in the style of Rainbow, Led Zeppelin, Deep Purple, Van Halen
Q: Who were the musicians that influenced you?
A: Tangerine Dream, Klaus Schulze, Manuel Gottsching, and Peter Hammill
Q: The music of ASKA TEMPLE seems very much influenced by some of the early "krautrock" musicians. What were your favorite German bands?
A: Since I was in my teens I liked German rock. I like the Deutsch language. I especially liked the band Novalis. In the summer when I was 15 years old (now I'm 37 years old), I listened to Tangerine Dream and Klaus Schulze. I then began meditating, and felt like I got in touch with my spiritual side, became like a ghost in some way.
Q: Your music does seem to have a very cosmic and spiritual side to it. Do you have those sorts of ideas in your mind when you make it?
A: MY music started as a reaction against school and society, kind of like the PUNKS. But I wanted to make more psychic music. I made the album DEATH BOOK when I was 17 years old. The theme was about KOUYA-SAN. This mountain is the holy place of WAKAYAMA. When a man dies, his spirit travels to the Holy Mountain
I remembered when I was in my mother's body, and what I thought about before birth. I wanted to make the sounds of The Land of DEATH, or the eternal darkness. I overdubbed 200 times a KORG MS-20. I did it during the full moon. I wanted to approach the state of NICHTS (meaning nothingness in the lore of Japanese MU). This was similar to KITAROU NISHIDA, a Japanese philosopher who says the SUBJECT and OBJECT makes a circle, and the center point becomes NICHTS ("Nothing"), which is the name I gave my record label. My overdub was going on and on, until it lost its center point. I wanted to create more and more abstraction. It was a battle of boy against the material and spirit. I think purity of spirit occurs during the struggle against the material.
The DEATH BOOK recording was the base point musically for me. I had never done a recording like that.
ASKA TEMPLE means dead civilization, and the remaining old graves and ruins, a Land of DEATH; the people in this land are ghosts. There were many battles in this small land in ancient times. And I live everyday in this land with the ghosts.
When I play it looks insane, playing mad sounds on guitar and synthesizer, but I must play these sounds, because I feel the ghosts make me do it.
Q: Do you hope that people experience a certain state of consciousness or feeling when listening to your music?
A: It's OK to listen to my music casually, but I hope my music encourages deeper listening to help someone find themselves through the music.
Q: Your releases have "cosmic" art work, again like the early German bands. Some are actually recorded live in concert; do you also record in your own studio, or a professional studio?
A: All of my recordings are made in a home studio except of course the tracks recorded LIVE. Then with my 21st album, ST. MARIA, SHE EXTENDS HER HANDS, I recorded it in an outside studio.
Q: Do you envision your productions as some form of fusion - art plus music = conceptual work?
A: The art work is by MOMAX. He was a film director. The ART and MUSIC is really an organic creation that is ASKA TEMPLE. In reality, there really is such a temple in Asuka village, in Japan
Q: Ultimately do you want to be more successful in the commercial pop music realm or do you prefer simply to make music because you love it?
A: I don't want to think only of success commercially. That's only about money. I simply want to make the music that comes out of my inner self when I play. I love myself. My music is instrumental to loving myself and the world. I don't want hate in the world anymore.
NICHTS RECORDS Discography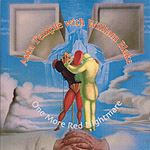 ONE MORE RED NIGHTMARE
This Aska Temple album introduces John Ubel's new band named William Blake, a trio who play a free form hybrid of spatial fusion.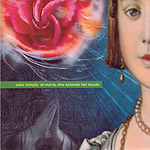 ST. MARIA, SHE EXTENDS HER HANDS
A beautiful set of 3 pieces of music that fills the listening space with sacred vibes. Beautiful piano, melodic synthesizer cycles and surging sequential currents enhanced by percussion and layers of keyboards.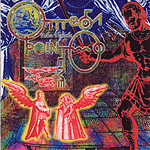 OMEGA POINT LIVE
A monster double album composed of 2 extended pieces of spaced "rock". "Part 1" is a combination of T. Dream's ZEIT + early Guru Guru perhaps. "Part 2" is INVENTIONS FOR ELECTRIC GUITAR dosed into "Interstellar Overdrive". Highly creative and remarkably listenable.
ZEITWELLE
Echoes of Manuel, TD and early Klaus reverberate throughout the 2 mega-tracks of synthesizer/ guitar excursions on this album. CYBORG meets ALPHA CENTAURI anyone?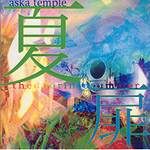 THE DOOR INTO SUMMER
A virtual kaleidoscope of progressive/ cosmic music. The 4 tracks here overflow with rumbling sequences, surging currents of synthe, celestial guitar, and layers of rippling keyboards and sonic spices and rhythmic energy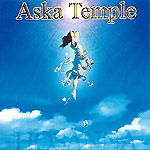 HOSANNA
The most sacred and hymnal work by ASKA TEMPLE perhaps. Rich thematic layers of dense, cyclic synthetics are embellished nicely by rippling keyboards and ethereal melodic lead lines soaring in and out of the heavenly mix.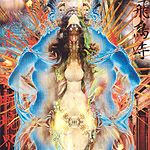 RED ACROSS THE BORDER
This is "cosmic" music to the max, filled with dense keyboards and reverberating guitars. If you've heard the very first double album HAMEL by Peter Michael and Günter Schickert's SAMTVOGEL, then you get an idea of the musical terrain explored here.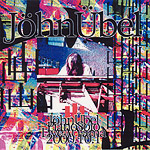 PIANO SOLO - LIVE AT YAMA
Flowing, undulating cascades and melodies of celestial piano done with the same cosmic flair as ASKA TEMPLE's electronic works.
FLYING TEAPOT & THE BLUE FLOWER
A double CD that embodies the Yin and Yang spirit musically. FT is electronic space music filled with upper register frequencies. BF is guitar excursions filled with fuzz, feedback and extended improvisational fireworks.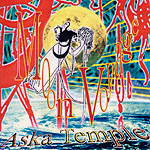 MOON VOYAGE
The darker side of space music is on display here as dense lower range frequencies surge and pulsate throughout this quartet of conceptually linked tracks.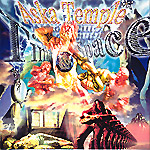 TIME & SPACE
T & S is another excursion into both ends of the sonic spectrum. TIME being a 4-part development of a continuing theme characterized by dense, flowing keyboards/ synthe, a strong melodic theme and undulating ebb and flow of electronic energy. SPACE on the other hand is an acidic guitar work filled with soaring lead lines, chords and shards of overload. Each disc is minimalist in concept, but achieves maximum impact "musically".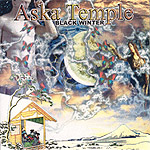 BLACK WINTER
A contrasting work that features deep electronic tones that ebb and flow along with high end synthetic and guitar melody lines developing on top of a warm bed of keyboard progressions. It's all topped off by a very hot guitar jam where John Ubel takes off on some mighty high powered arial pyrotechnics.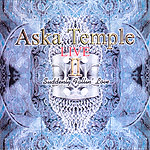 SUDDENLY FALLIN' LOVE
This is a "band" album that harkens back to early Guru Guru (UFO + HINTEN). It ranges from very heavy psychedelic/ space jams to passages of improvised psychic-music experimentation.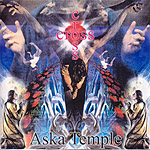 CROSS
One of the most meditative releases by ASKA TEMPLE, the rich keyboard themes which ebb, flow, evolve and intertwine over the span of these 4 tracks serve as perfect backdrop of the soaring Eastern tinged guitar excursions soaring above. One segment especially reminds of a mystical INVENTIONS..... era Gottsching track.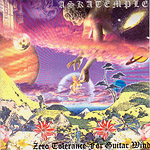 ZERO TOLERANCE FOR GUITAR WIND
ZERO TOLERANCE.... begins as pure Gottsching INVENTIONS..... era guitar riffs. Then by track 2 evolves into a guitar foray echoing with white noise ("wind") and distant guitar pyrotechnics. Ultra spacy and mentally intoxicating, it develops a strangely compelling emotional sonic "presence" as the sound evolves.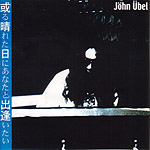 JOHN UBEL
A very interesting "solo" performance by JU. The first 5 tracks are melodic, echoing, undulating guitar riffs, a bit like Michael Rother perhaps. These are followed by a finger tripping piano work that is melodic and meditative, but also very free ranging dynamically. In both cases Ubel's mixture of deep tones and delicate high end melodies is inspired.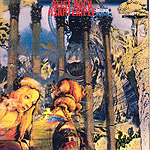 GEIST ROCK
On this album Ubel goes for the jugular. The opening f4 pieces combine guitar and electronic to create a harsh, droning quartet of industrial soundscapes. The major live track following is a noise freakout-jam in the vein of Skullflower. This is a high energy trip into the darker recesses of mind music.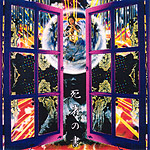 DEATH BOOK
This album contains the major piece made by Ubel described above. Not nearly as cataclysmic as you might expect it is nonetheless a very interesting piece of experimental synthesizer music a la early Schnitzler/ Kluster. In addition the album contains a very early Gottsching-like cyclic experimental guitar excursion.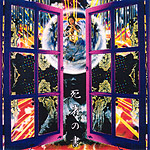 TRAUMS
"DREAMS" is an album of heavenly synthesizer music. Two thematically related - drifting, undulating melodies, layered/ overlapping/ evolving into a powerful, celestial wave of electronic sound.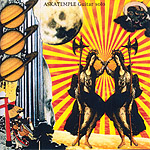 GUITAR SOLO
A 1999 synthesizer/ guitar work that finds Ubel exploring many ideas and sounds that runs the gamut from extreme and dark/ droning to quirky and celestial/ melodic.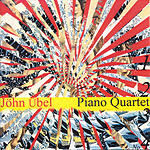 PIANO QUARTET
Recorded in 1996, LIVE over several months in a Jazz Bar, this is Ubel's first recorded work done on grand piano. A quartet of tracks that are filled with melody, rippling crescendos, and at times dynamic compositional flourishes. Inspired by the struggles of love - won and lost. VERY different than your standard lounge music.