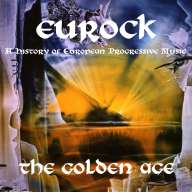 A History of Progressive Music
from Germany, France, Spain, Italy, Eastern Europe, Japan, South America & points beyond!
In March 1973 EUROCK Magazine published its first issue pioneering the field of space rock journalism. To date 47 issues have published. In 1980 EUROCK Records released its initial production becoming one of the first independent labels Internationally specializing in electronic and progressive music. Over the next 20 years 40 albums were released. In 2000 EUROCK is releasing a totally unique new production. THE GOLDEN AGE is a Multimedia CD featuring 40 minutes of music, enhanced with CD-ROM technology - a complete Audio / Visual experience.
"EUROCK, one of the original alternative music magazines"…
-Stephen Hill (Hearts of Space)
"EUROCK is a rare example of, I'd call it culture.
The work of a man who not only had a definite idea and followed it, but also had the true spirit for the matter (that's rare)."
-Uli Trepte (Guru Guru / Spacebox)
"Our music began shortly before Archie started to write about it.
I have to point out that he was the very first to take E. M. seriously and who did a fanzine about it.
This was some 4,000 miles away from where the music was happening -- in a pre-FAX era!
-Klaus D. Müller (manager Klaus Schulze)
The Music: Since 1980 Japanese master musician Hiro Kawahara has been exploring the realms of electronic and progressive music releasing albums as leader of the groups Osiris, Dr. Jekyll & Mr. Hyde, and more recently Heretic. His new album, featured on THE GOLDEN AGE, contains 40 minutes of music recorded between 1980 & 1999. A dense Zen electronic tone poem, it echoes the works of such luminaries as Kitaro, Steve Roach and Robert Fripp, yet has a distinct quality that puts it in a category all its own.
The Magazine: A Multimedia CD-ROM extravaganza, THE GOLDEN AGE contains 1,100 Articles, 300 rare Photos, 1,200 Reviews, 350 Discographies, a complete Index + 25 minutes of 16-bit, digitized audio / video by Amon Duul II, Popol Vuh and Urban Sax. In addition, there is a brand new issue of EUROCK Magazine. It contains recent articles and interviews featuring some of Europe's original journalists and musicians who created the scene.
MAC OS8 - WIN 95/98 - Audio CD Player
Compatible
Price $30
[+ $2 P/H US, $5 Foreign]