Gerhard Augustin Interview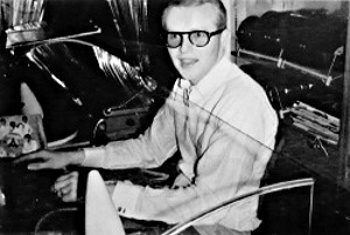 The Godfather of Deutsch Rock
Throughout the history of music, as well as other forms of art and entertainment there have always been celebrities. Behind the scenes are the dealmakers who sometimes get attention as well (for better, and for worse). Occasionally there are those who serve as a catalyst for something bigger. Be it a cultural shift, change in musical style, or discovery of groundbreaking artists or bands, it is uncommon for them to get much attention or recognition. Often it is those with visionary ideas that make things happen, and later get overlooked when the story of how it all began is told.
One such dedicated promoter of music is Gerhard Augustin. At a time in Germany when English was largely an alien language, and "schlager" (German folk/pop music) was the norm, Gerhard grooved to a different beat as a DJ in Bremen. As co-founder of the famous TV show "The Beat Club", and A&R man who engineered the signing of Amon Duul 2, Popol Vuh and Can to Liberty/United Artist Records in 1969-'70, he helped lay the establish for a cultural shift and musical revolution in Germany. Gerhard possessed an open mind and the business skills to act as a bridge between the underground and establishment. In effect, he was the godfather of Krautrock, which still resonates musically in the world of pop music influencing countless contemporary bands.
His story is fascinating and it is past time that it was told. I think you will find the following interview offers a fascinating glimpse into the past, giving long overdue credit to one of Europe's unsung musical pioneers. In many ways, Gerhard is "the Godfather of Deutsch Rock". As an A&R man for Liberty/ United Artists Records he got signed and produced the first albums of perhaps the three ultimate German bands of that time - Can, Amon Duul 2 & Popol Vuh.
Q: Tell me, in the beginning how did you get German TV to allow you to produce "The Beat Club" music program? What year was the first program broadcast?
In 1963, I became the first German DJ in Bremen. There was a restaurant called The Gypsy Cellar that sometimes had live music in their basement. I knew the owners, I recommended to them that they turn it into a discothèque for dancing and they agreed. So we put in two turntables and named it the Twen Club. It became one of the first youth clubs at that time.
I had just come back to Germany after Kennedy was shot as I had been from living a while in the USA. I had seen Shindig there and Top of the Pops in England so around 1966 I started trying to promote doing a German version of those programs that turned into The Beat Club. Radio Bremen produced the program, which was directed by Michael Leckebusch and hosted by Uschi Nerke and myself. The first show aired Sept. 23, 1966 on a Saturday afternoon at 4 PM.
Immediately reactions came in, letters, calls, etc. People from the older generation (old Nazi's) hated it, young kids loved it and said things like "keep it going" and so on. It caused a real reaction between the generations.
Q: It became a sensation on the pop scene and helped start some of the most famous pop groups on their road to fame and fortune. Who was your favorite English pop group that appeared on the show?
My favorite band in those days was The Who. We had become friends earlier when I had worked in England and our friendship continues today. I had met their manager, Kit Lambert, who gave me an acetate copy of their first single "Can't Explain" b/w "Bald Headed Woman". They were trying to get a label for it in the early days. I also liked very much The Kinks and the Stones who I met while in London around 1962. Everyone hung out at a pub near the Marquee Club back then.
Q: I have seen tapes of many of the English stars that appeared on the program. However, at one point you started to feature also the newly emerging bands from the German space rock scene. How in the world did you get mainstream German TV station executives to allow that?
The whole Beat Club thing was a result of the relationship I had with Mike Leckebusch over the years. When we created the show together, we became great friends. However, slowly over time, he wanted to take more credit for the show and later some English managers recommended he should use a British DJ instead of me so the show might be of more interest to the English market. Larry Page and Robert Wace were the main ones behind this, they were part of a sort of 1960's UK music mafia of old business types who wanted to control pop music in Britain. Eventually they gave Mike some money to buy a big house, a Jaguar and all those things, so I got phased out and he went on to gain fame and fortune himself. It's an old story. He became very corrupt and there was lots of payola going on with the show back then.
The English pop stars were often on the show because their songs were in the charts in Germany. Soon the record companies started helping with this as they realized that even though TV production was very primitive in those days – black and white, etc., they saw it could influence sales greatly.
As for getting the more experimental bands on the show, I think Mike always had a bad conscience about pushing me out of The Beat Club. He knew I was the originator of the idea for the show and developed it after the other shows I'd seen on my trips overseas. Therefore, as a result of this, every time I came up with a new German progressive or experimental act I would bring it to him for exposure. I got groups like Amon Duul 2 and Popol Vuh on the show, but it took a lot of convincing. In the end because of his guilt, he would put them on as sort of a favor to help me out.
Q: Was it just after doing The Beat Club that you became the head of A&R at Liberty/UA Records and were involved in production of the first Amon Duul 2 and Popol Vuh records (around 1969-1970)?
Well, not quite… When I left The Beat Club, in 1968-1969 I went to America and lived in San Francisco. There I discovered bands like Santana and CCR for the German market. I also met Bill Graham and we became good friends. He introduced me to the Grateful Dead, Quicksilver, Sly & the Family Stone, Ike and Tina Turner, Tom Donahue (the original FM DJ playing underground music) and Ralph Gleason who was one of the first journalists to write about the new underground music in the Bay area. I was very fortunate to be in the right place, at the right time for all that was happening in SF then.
While I lived in SF, I worked at KQED TV and was awarded a scholarship and got a diploma in Mass Communications at Stanford University. After graduation, I got a job in Los Angeles with United Artist Records and learned all about how the company worked. They then sent me to Germany to work for the company there. When I got over there they wanted to sign some domestic German bands to their roster. Sigi Loch, head of the famous Star Club record label, started a German flagship label for UA/Liberty Records, to aim both at the home market and abroad. I got them to sign AD 2, Popol Vuh and Can. The record company knew little about that type of music of course, so it was sometimes a rather strange situation as you might imagine.
Q: While doing The Beat Club and promoting AD 2 and Popol Vuh did you, do the actual music/video production or work have help from others like Olaf Kubler, etc?
I was only involved in financing and management of the video production. We did one for "All the Years Round" by AD 2. That was the first music video production in Germany. We paid a director and video company to do the filming. It was played, but there were very few media outlets for that type of thing in those days. We did several other videos as well, but that was the early days of TV and the experimental bands were not really attractive to the mainstream media.
Q: Amon Duul 2, I believe actually started as a political collective then the main members broke off to form a specific music group.
Amon Duul did begin as a political commune in Berlin. It was formed by the coming together of politicos from Berlin like Rainer Langhans and Uschi Obermeier (who became a famous model later), with musicians from Munich – Chris Karrer, Peter and Ulrich Leopold and Falk Rogner. Renate was not involved as she was living in England then working as an au pair. After a while there was a split into AD 1 (the political people), who recorded one big party/session before they descended into chaos. That resulted in several records having nothing to do with the real AD 2. Amon Duul 2 (the musical side) moved back to Munich where the group was joined by John Weinzierl and Dave Anderson (who came over from England). The first album of AD 2 – PHALLUS DEI – was recorded in two days at Trixie Studios in Munich. It was the first space rock album and caused a sensation on the young scene.
Lothar Meid in the beginning was playing with Embryo, before he joined AD 2 later. He also played with Olaf Kubler (who was a jazz saxophonist). They played jazz and soul music on Sunday afternoons in a couple clubs around 1968-'69. Olaf also produced and published the AD 2, and many other albums. He was a real Mafiosi type involved in the music business.
Q: What was the scene like back then? Did those records sell large numbers – for example, do you remember how many copies YETI and TANZ DER LEMMINGE & AFFENSTUNDE sold?
For the new underground groups without a hit single it was very hard. Some of the old Nazis were still in control of the media, so they would never give exposure to the new more experimental rock music. Society in Germany was just about to start changing, so a few dared to promote this new music and ideas, but rock and roll was new to Germany. Here that sort of thing basically started 10 years later than in the USA. Most people still listened to Frank Sinatra, Sammy Davis Jr., Johnny Mathias and Peggy Lee. For the most part, English was not spoken much at all. Beat Music started to change this around 1965. Later many German bands started to copy the English bands, covering their songs, and playing on The Beat Club as the most famous English bands became too big and expensive. In addition, payola started playing a large part in the music scene and it all started to change in many ways.
Q: During the heyday of the "space rock" scene in Germany was that type of music a significant market and did the albums produced by those bands sell a great deal? Alternatively, perhaps has the myth always been bigger than the reality?
Sales of these albums were actually very low. AD 2 was the first to start selling with PHALLUS DEI. Then Can had their song "Spoon" on a German TV crime show called "The Knife". That caused it to hit the charts and ultimately it went silver, which in Germany meant selling 250,000 copies. Later their album, EGE BAMYASI, with that song on it started selling as well. Can made good money actually.
Over time AD 2 sold maybe 60,000 copies of PHALLUS DEI, their other albums sold between 20, 000 – 50,000 worldwide sales over the years. They still sell today reissued on CD. AD 2 never had a hit single, although we tried with "Archangels Thunderbird", and a couple others, so their sales were smaller.
Q: Over the last few years, it seems there has been renewed interest in some of the original German bands. AD 2 reformed and did concerts in Japan and England. Is the band still together now? Who are the current members?
There was actually some confusion surrounding the name and music of Amon Duul 2 as some albums came out in England that were not really connected to the band. Therefore, there was a court case in Germany where the members of AD 2 were actually certified. They are – Renate Knaup-Krötenschwanz, Chris Karrer, Peter Leopold, Lothar Meid, Falk Rogner and John Weinzierl. A couple years back some of them reformed and we did some recording and live shows in Japan and the UK. However, for something more permanent the chemical formula was not good…
Q: What about Florian Fricke, do you still have any contact or work with him?
Florian Fricke was also from Munich. On the first Popol Vuh album, AFFENSTUNDE, he used the first Moog synthesizer in Germany. Along with Eberhard Schoener, they pioneered the use of synthesizer in Germany. Later Florian sold his Moog to Klaus Schulze who became one of the leading electronic musicians in Germany even up to today.
Florian had perhaps more success than AD 2 because I arranged to have his music used in five of Werner Herzog's films that helped him gain more exposure internationally and better sales. In fact, one of his songs, originally in AGUIRRE, was also used in a successful American film that won a prize at the Cannes Film Festival; it was called BEFORE NIGHT FALLS. I was producer of most of the Popol Vuh albums, and am also the godfather of his son Johannes. Sadly, Florian passed away a few years ago…
Q: What is your main area of work these days? You have a company called Gammarock Productions. Do you still do video production and perhaps consult for record labels?
Gammarock is a company I formed in 1976, in LA, with Patrick Gammon (who died in 1996). Now I handle all the music publishing, as well as the video and music production for the Gammarock material, which includes Popol Vuh and many more mainstream artists. We place artists with labels and get the music into films, etc.
I also now do a public radio show again here in Bremen again. I have always loved being a DJ and still do today.
Q: After all these years what is the most memorable thing that music has brought into your life? A special concert, album, or travel to some faraway place?
Music has always been the most important thing for me - more important than sex, love or relationships. Music is essential to my life whether I sing it, play it, hear it, work with it, or make money with it. In my opinion, as a publisher, producer, musician, artist and music lover, in the movies, music is more important than the actual pictures. It makes the film come alive. I am what you call a music freak. I have made my living all these long years with music, being a DJ, doing shows, and writing eight books about different artists along with anthologies on pop, rock and beat music.
Some of the most memorable events in my life are associated with music. I traveled with Jimi Hendrix that last 3 weeks of his life. He was a very beautiful person and musical genius. Also with the Rolling Stones, I had many breakfasts, trips, concerts, shows… I met John Lennon at the house of Jann Wenner (of Rolling Stone) in NYC, around the time of the recording and release of IMAGINE… I toured around the world with Ike and Tina Turner - Australia, Japan, Africa, at the height of their career and during their times of trouble and breakup.
Q: Could you imagine a life with no music in it?
Truly, I do not even want to think about a life without music. I have met so many musicians, actors and great people; music has been a most wonderful life for me.
-Archie Patterson