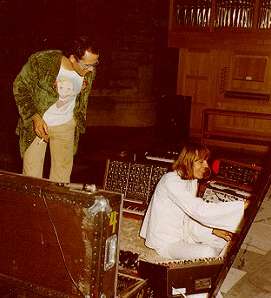 KDM Interview
Klaus D. Mueller has been one of EUROCK's best "friends" over the last 25 years in Germany. Over that time many phone calls; faxes and emails have been exchanged all in the service of information and support for each other's cause. Along the way we talked about many aspects of our life and love of music. It was both educational and fun.
As friend, manager and publisher for Klaus Schulze since the beginning, KDM was been involved in the German music scene and has done every kind of work to help make the music happen over the years. He's set up equipment, promoted concerts, started labels, hustled record companies, done favors for fans, and ruffled a few feathers along the way as any outspoken, dedicated promoter and crusader will. He's grown up with music of some sort always in his life, and is one of the few who will always give me his good advice when I ask. Even when he was critical, there was a little smiley face next to his comment and I respect what he says.
As EUROCK began again to focus on net-journalism in the year 2001, I wanted to do interviews with the artists and people whom I respected and felt deserved perhaps long overdue recognition for their many years of making or supporting the music. KDM is high on the list of people who qualify. I hope you enjoy his story.
Q: Do you remember actually when and what was the very first record you heard, or bought, all those many years ago in your youth?
First it was the usual "Schlager" (hits) of the day, German "Schlager" of course; the names would mean nothing to you (later I learned: mostly cover versions of American hits). I was very young then. Then I remember hearing the Schellack with "Rock Around the Clock" by guess who, over and over again. I loved it. Then it was (already my own) singles; I chose by song not by artist, then, in the mid to late fifties, American pop music of the time, 1957 to '60. We could hear the AFN here in Berlin, and especially the program "Frolic at Five" from five past five to six in the afternoon (hosted by a George Hudak; the opening music was always the same: "9:20 Special" by the Harry James Orchestra; but this I found out only much later), ...this program was not just my favorite, but all Berlin teens listed to it. Here we heard the hot music of the day and from God's Own Country that was never (never!) played on German radio (Eddie Cochran, The Drifters, Bobby Day, The Everly Brothers, Jerry Lee Lewis, Buddy Holly, Fats Domino, Paul Anka, Little Richard, Elvis Presley, Carl Perkins, Pat Boone, Brenda Lee, The Coasters, Ricky Nelson, Bobby Helms, Duane Eddy, Connie Francis, Wanda Jackson, The Kingston Trio, The Ventures, Don Gibson, Neil Sedaka, Johnny Cash, Marty Robbins, Johnny and the Hurricanes, Bobby Freeman, Freddy Cannon, Lloyd Price,.
Mind you, there was no "youth culture" in Germany and in Europe, the teenagers were not seen yet as important customers. Blue jeans were just coming up (only one brand, the now classical Levi's). "Black" music was not so often played on the AFN, as was white music; I don't remember hearing much of Chuck Berry or Bo Diddley then, on the AFN. Instead of Ivory Joe Hunter's originals they often played the white copies by Pat Boone etc. (But I realized that only very much later).
My first single that was of any importance to me had a black label, and it was "Just Walking in the Rain" by Johnny Ray.
Later, when I was 15 I discovered Dixieland music, cheap Dixieland I must confess (Dixie was then a short sensation in Europe). From here I heard Lonnie Donegan ("Rock Island Line" etc.) and for a short time some Skiffle. Alexis Korner's first album was an eye-opener... and from there I went on to discover the originals: Big Bill Broonzy, Josh White, Leadbelly, and all the black singers, guitar pickers, harmonica and piano players of the thirties and forties, and finally from the fifties: Muddy Waters, Sonny Boy Williamson, Chuck Berry, Little Walter, Bo Diddley, Howlin' Wolf... I saw some of them in concert at those famous annual "American Blues Festivals." This was in the early to mid sixties. And I changed very quickly from cheap Dixieland to real historic jazz, up to "modern" jazz.
Q: When you were growing up what was your favorite type of music?
As just described: Mostly it were the more "hot" hits of the days, the more rhythmic and wild stuff: Rock 'n' Roll. I could sing-a-long with most of my singles, without knowing what I sung! Then it was Blues and Jazz from the past & present. I was very much into Charles Mingus & John Coltrane when they did their things. But I also loved the classic things from the twenties or thirties and forties, from King Oliver to Charlie Parker. Before I forget him: Ray Charles was always a favorite of mine.
At the end of the sixties I also had my listening experiences with Terry Riley and similar avant-garde musicians. Even worked for him at two huge & long 30-days-festivals in Berlin.
Q: You are a collector of information and music - do you have still today a large collection of records and CDs?
Still a child, I gave away my "collection" (about 20 singles and EPs) of Rock 'n' Roll for the same amount of Skiffle singles, around 1958 or '59. Soon I dropped also Skiffle and started collecting Jazz and Blues, seriously for about ten years, buying at auctions etc. I was really into that scene. In 1970 I realized that I just collected, but rarely listened anymore to all the many LPs I had bought. As a result I sold the whole collection of albums, EPs, singles, and about 200 books (discographies etc.) to a Belgian collector. (A week later most of the money was stolen).
I started to collect again (only jazz and blues) in 1985. Ten years later I had the whole history of this lone genuine American art form on records again.
Q: During the beginnings of German rock in Berlin. What were the first bands you remember starting up in Berlin?
If I remember well, it was "Agitation Free", their friends "Os Mundi", and soon later: "Ash Ra Tempel" and "Tangerine Dream". And I worked for a lesser-known band that played in American clubs on each weekend. I carried their equipment. With Agitation Free we had concert tours in France. But my main job in 1970 to '73 was being the tour manager for English or American artists, groups, even orchestras: Lionel Hampton, Duke Ellington, Paul Bley, Van der Graaf Generator, Baden Powell, Marty Feldmann, ... etc.
Q: It seems to me that Berlin always had a tradition of avant-garde and artistic types living there. Am I right in this? In the early days were there places for the first bands to play and a scene of any sort there in say 1966, '67,'68' '69?
Berlin is a large city and the cultural scene was and still is very much supported by the government, I mean money wise. This brings a lot of "avant-garde" to the foreground; also a kind of avant-garde that is forgotten very fast (and justifiably). I remember the "Living Theater" visiting Berlin, they were a sensation. Also the concerts of free jazz musicians like Peter Brötzmann were great then - young Brötzmann was really energetic. In the early seventies I did the furniture removal for a man called Steve Reich, who was a citizen of Berlin then (!). I did the same job for Ax Genrich when he left Berlin and moved to Heidelberg. Memories.... :-)
Of course, the government did NOT support rock music. Places to play were some small clubs that change names and owners every three months. All that started only after the "cultural revolution" in 1968 (a copy of what had happened at Berkeley a year before). Before that, we had "beat music", modern German groups sounded either like poor Beatles or like poor Stones. The music you are thinking of, Archie, started in circa 1969.
Q: When did you first start working with Klaus, Manuel and the others back in those days?
Must have been in 1972, with "Agitation Free". Also in '72 and during one of my tours with international groups, I met Hartmut from "Ash Ra Tempel" in Frankfurt. He kindly invited me to visit him & A.R.T. when back in Berlin. I did so and became friends of Manuel, Rosi, and Hartmut, seeing them nearly daily. I helped them too with carrying speakers, amps, etc. to rehearsal rooms or concert venues. I was well known then for my "magic box", a simple toolbox that contained "everything" that was needed (so it seemed to the guys).
Klaus Schulze I met first in the old office of the OHR label, when we (A.R.T.) asked for some cash to travel to Switzerland to do what became the SEVEN UP album. KS had left A.R.T. a year ago and discussed matters with an OHR secretary about cover and photo for his first solo album. Later that year I also got to know him better and started to help him out, too. I even started to live at his flat, together with him and his girl friend. In 1973 I worked regularly for A.R.T., TD, and KS (which means: on all their gigs).
Q: How did you get involved in the scene? There was very little business consciousness among musicians in those days (and maybe still today…); did you have some management, or personal business experience to help them?
With the exception of Edgar Froese, I was a bit older than all the Berlin musicians I worked for. In 1970 I had finished with a regular full time job that had lasted the previous 10 long years, and therefore I knew what work means. In opposition to all (!) those musicians my background is the "lower class". I had no such naive ideas, I was a very realistic person and I still am. Also I had my European tour experience with sometimes quite difficult people from USA, Brazil, England...(even more difficult if you know that my English was sparse then :-). Of course I had no knowledge about management or the music business. I was an accepted member of Agitation Free and A.R.T. except that my job in the group was the technique and transport. Only later - and just with KS - I started to look after business things too, and learned a thing or two.
Q: In America the birth of psychedelic music created an even larger social scene that ultimately changed society even up to today. Was it like that in Germany as well - a social revolution caused by the music, or?
West Germany copied and still copies everything that comes from the USA, including every silly fashion. In addition to the music from England, of course the German young bands also copied the (not so silly) music from America. At least: they tried. The San Francisco groups were highly regarded here, as much as British "Pink Floyd" and a lot of the many English blues rock groups. Sadly, their ability to do the same as the Anglo-Americans was not so prominent. Therefore, some believed that drugs were the necessary thing needed, what an error. What came out from the efforts by a few of the young & idealistic Germans lead finally to their own style. The huge majority of the German bands played the usual rock stuff, but with that stiff rhythm (Can and Kraftwerk were clever - or courageous - enough to take this as advantage :-).
Q: In fact was this new form of German rock music really such a big musical movement back then, or perhaps even in those days, the hype was bigger than the reality?
There was other music that was much bigger, which is a situation not very different from today. Only to the ears, eyes, mind and life of the interested people like you or me, this scene was important. The common man listened to other music. Probably Captain Beefheart's TROUT MASK REPLICA album sold more than TD of their first three LPs.
Q: From your perspective, what was the reaction of the German people in general to this new phenomenon called "Krautrock"?
No one in Germany called this music "Krautrock" then. Ash Ra Tempel or TD was called "Ash Ra Tempel" or "Tangerine Dream", or "those crazy people" :-). The nationalistic British music press put the label "Kraut" or "Krautrock" on some of the bands, if they noticed them at all (after '73 and mostly because Virgin released some of them and paid for advertising). Of course, the Brits meant "Kraut" spitefully.
The Germans as a whole didn't react at all. Some journalists mentioned the names some people bought the records. As said above, it was a minority. German rock music was not highly regarded. Apart from the albums I got for free from the people I worked for, I never bought a record by a German artist or group! It was just not cool. Pink Floyd WAS better than TD. Hawkwind WAS better than A.R.T. And the Stones WERE and ARE much better than all the hundreds of German copies. The exception was in 1973 when Kraftwerk hit it big with "Autobahn".
Let me take a parallel to the second wave of German bands, ten years later, called "New German Wave", in 1980 to '82. The better of those bands in the very early eighties sold hundreds of thousands of copies of albums and singles, played concerts in front of many thousands, had TV appearances, won awards, etc. (Ideal, Trio, Nina Hagen...). The first wave ten years earlier, Can, Amon Düül, TD, A.R.T., Klaus Schulze, they sold one or two, maybe five thousand copies. The eighties' German bands sold 100 times more. This is the reality. But, selling is not everything.
Q: Do you have any idea how much a percentage of the market sales of the new German rock bands accounted for overall - or did "normal" music still dominate the business even then?
If you speak about the early era: the latter. A successful album in Germany was then: 50,000 to 100,000 copies. 250,000 copies was Gold, 500,000 copies: Platinum. Every month there are lists published of Golden and Platinum albums. No Tangerine Dream, no Can, not one of the groups you think of, among the dozens of records. Same for radio play: nothing on the main stations at normal playing time. Nothing in the charts. Only exception was Kraftwerk after 1973. Oh, yes, and there was this Michael Rother, he had a huge success once with one of his records. But these two exceptions are not really part of the "new music scene" in Germany around 1970. These 2 had HITS with the wider public because they actually composed a song with a melody, a pop hit. That's still the key to success in music: a good melody. For instance, not one TD album contains such a catchy tune.
Q: In the early days what was the record industries reaction to the music of KS? Over the years what was the largest selling KS album and how many copies did it sell?
Why & how should the record industry react? There was no such reaction.
Sales figures? Recently I discussed with KS if I could publish such figures in "The KS Circle", the monthly publication about Klaus. I have fascinating statistics that I made in the late seventies and in the early nineties. We agreed that these figures are still nothing for outsiders. Because: any statistic would be misinterpreted by most readers because they don't know, or forget: a record that is for 20 or 25 years available, sold of course more than one that is on the marked for just the last six months. An album that is distributed worldwide by a huge label (for instance: TIMEWIND, MIRAGE, or BABEL), would sell automatically more than an album released only in Germany. This says nothing about the quality of an album. Readers would only see the figures... and not what's the reality behind them. Also people are used to (and seem to believe) exaggerated figures that other artists tell them. And IF I would print our figures, I would be honest. Therefore, we NEVER published sales figures of KS' albums.
Q: For a very long time now you have worked with Klaus Schulze. What exactly was the nature of your relationship with him?
I worked with him (notice the "with"), by doing the things he's not able or not willing to do: from bookkeeping, statistics and writing letters, to carrying and maintenance of the instruments. Also making photos, covers, tour management, the stage set-up, the stage lighting... Care of the instruments' I dropped in the early eighties. Officially, and since 1978, I'm his publisher; I "publish" his compositions. And that's my only income. Except if I produce albums, then I get my share from this too.
I gave an older interview the heading: I try to bring order into the chaos. This explains in 8 words my job. If someone wants to know more details about my work then and now, this other interview is to find in the "Miscellaneous" section on the KS website: www.klaus-schulze.com.
Q: During the last 30 years together you and Klaus did 2 independent record labels (Innovative Communication and Inteam) to release his albums, and music by friends. Was there a specific reason for you to do this - because of economics, desire for creative control, lack of interest by larger record companies, or?
With both I had nothing much to do (!). I was against them from the beginning. KS is not the right person to lead a company. First, he had a good partner in IC, Michael Hajentes. Only when this partner left Klaus and later founded "Edel", I had to replace him, voluntarily without any payment (!). I still was "the publisher" only. Okay, I said to myself, if I finally accept to do this unwanted job, I'll do it right: I found a rock group here in Berlin, signed them for IC, produced them, and 18 month later we had a Platinum album.
Later, after I had left IC and Klaus had sold the company, he asked me to join his second effort "Inteam". I said no. I saw that the label would be soon bankrupt, for various reasons. Exactly this happened. A real musician should not try to manage a company, and vice versa.
Q: Today what is the situation like for new bands, and more experimental artists in Germany like KS since the market has become so dominated worldwide by the mega-corps?
It's the same as it was 30 years ago. Good interesting new music has always a chance. It doesn't matter if the record companies are huge or small. And with "good interesting & new" I do not mean: "good" for a loony clientele, "interesting" to those with no taste, and "new" for those who don't know much music. Sorry for these harsh words, but during these many years I've had my experiences with bad taste, with naive crazies, and with egocentricity :-)).
Q: In America, the record stores have become like huge corporate supermarkets for the latest top pop products. The smaller indie stores have a real hard time and often exist only by selling used vinyl LP. Is it the same in Germany, or does a strong independent spirit still exist there in the music field?
I don't know. This is - if it does exist – it's a part of the much younger generation. It's their game.
I haven't visited a record shop for ages; I buy only by mail order (because what I look for is rarely in the shops anyway :-).
I remember my last CD shop visit: I ordered a six CD set by Charlie Christian, on a Portuguese label. When after three weeks I collected and paid the CDs, the shop assistant asked me what kind of music is that? He actually has never heard about the man who invented & publicized the electric guitar (and its use) to the world! Millions of guitar players do what this black man offered, sixty years ago. ... These are my little problems, far from thoughts if there are bigger or smaller shops. But maybe you're right and in smaller shops there would be shop assistants who know a bit more about music and its history?
When I look at all the many small labels that release new electronic music - and I don't speak of those old-fashioned copycats, but of a new generation that's doing quite interesting new stuff - it's rarely on a multinational big label, but mostly on small labels you never have heard before... Which is also very clever by the multis because of the risk involved. If it's a seller, the musicians involved come to them anyway (& voluntarily!). That's the way the cookie crumbles.
Q: What do you think of the current bit of renewed interest in the old Krautrock artists? Is it misplaced nostalgia by fans, or perhaps rediscovery of some good music that has been forgotten?
What "good music"? :-) The few good ones from the past were always there, or their classic records were always available. The rest was luckily forgotten. I spoke to people who suddenly see their old, forgotten bands in the dim "Krautrock" limelight --- they wonder & laugh about the people who suddenly think that this music was and still is great. One of the greatest admirers & promoters of this mercifully forgotten music is a well-known drug addict & crazy man (This is not my description, but from a rock lexicon).
Q: How has your music taste changed over the years? Do you still like the music of your youth, or do you listen to different things?
Of course I listen to different music than I used to forty years ago. It's all kinds of music, except for pop or rock music, be it today's or yesterdays. For present pop I listen sometimes to the radio, during work, just to be up-to-date - "ah, another Beatles copy" :-).
Privately it's mostly so-called "classical" music that I pull out of my shelves and put into my CD player. And here I go as much into detail as I did during the sixties with jazz & blues, until I was an expert. I'm now on the way to becoming an expert in classical music as well :-).
I feel nothing anymore when I listen to an old Pink Floyd album, but I have that special feeling if I listen to Gustav Mahler's 9th Symphony, the last part, the "Adagio", especially by the "Berlin Philharmoniker" under John Barbirolli. Besides some nostalgic moments, the only "pop" music I still love to listen to and still buy, album for album, is: Van Morrison. My age.
Q: Now that you have passed the half-century mark age wise, do you ever reflect about what things would have been like if you hadn't made music your love and your life?
"Now"? This mark I passed already six years ago :-). Yes I do reflect, mostly when & because people ask me about little or special parts from the past, and I like to give answers. But, sorry, Archie, I have no answer to the "what would have been" question. Literature is my other love.
- Archie Patterson
Photo © 1977 Klaus D. Mueller. Taken with permission from www.klaus-schulze.com