"Music for the 3rd Millennium"
The London Concert

"Music for the 3rd Millennium Vol. 2, which took place in October 2000, was the UK's final electronic music concert of the year 2000.
The setting was a spectacular Gothic church in central London, and the cast was stellar. After an absence from the live scene of almost 15 years, Michael Rother (of early Kraftwerk, and Neu!) joined forces with fellow ex-Harmonia member Dieter Moebius (of Cluster) for the headlining set. Since any of the duo's joint studio work has yet to emerge on CD, this remains the only available example of their recent collaboration.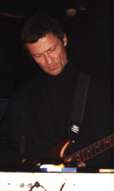 Next on the bill was White Noise, whose comeback CD "White Noise 5 - Sound Mind" gets back to the psychedelic, experimental roots of the groundbreaking 1960's debut An Electric Storm. Headed by David Vorhaus, the group this time round comprised a trio including two laptop operators, plus a guest appearance by Alex Paterson (of The Orb) who mixed in ambient material which added to the drum loops, sequencers and abstract patterns of the White Noise soundscapes.
With Germany and the UK already represented, it was off to Mexico for a set from Alquimia, whose music, and album A Separate Reality, featured a unique combination of voices, synthesizers and sequencing and has been a huge success around Europe. Apart from improvised voice loops and album material, Alquimia introduced film soundtrack composer Michael Nyman who added piano for a couple of collaborative numbers.
Then it was over the channel to Europe for a long set from WaveWorld, the synth duo from Holland whose albums are setting new standards in atmospheric, ambient music and whose performance was accompanied by spectacular, spacey computer graphic projections.
The combination of space music, computer graphics and (for the more rhythmic elements of the White Noise set) some intense psychedelic lighting was overwhelming. The Arts organization, The Goethe Institute, had helped fund the headline act, and have to be congratulated for such an effective involvement in the electronic music scene. Now the organizers are looking for opportunities to give a "3rd Millennium" concert with some of the same artists elsewhere in Europe and in the USA.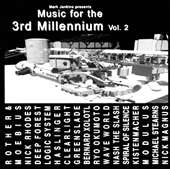 A taste of the show has now also been made available on CD as Music for the 3rd Millennium Vol. 2, follows up on 2000's debut album in the series. The "3rd Millennium" London concert is superbly represented by a live excerpt from the Rother/Moebius set, an unreleased WaveWorld piece, and by Alquimia's involvement in a new project with synthesist Mark Jenkins, "Spiral of Silence", which powerfully fuses voice, synthesizers and loops on a piece inspired by one of the poems of Edgar Allan Poe.
The CD also features much more. opens with an up-tempo unreleased piece from world music stars Deep Forest, proceeds with an unheard and very symphonic Bernard Xolotl track, and has symphonic inspired piano-and-synth pieces from Clearlight, Nick Magnus (of Steve Hackett's band) and Ryo Okumoto (of prog rockers Spock's Beard).
There are techno-oriented instrumentals from Hideki Matsutake (of YMO), Nick Rhodes (of Duran Duran), and a powerful electronic piece by the as yet unrecorded duo, Modulus. Pure synth music is represented by Bernd Kistenmacher and by Tangerine Dream's Paul Haslinger, with a more ambient piece from Michael Stearns. Prog rocker Dave Greenslade has a track from his solo CD The Pentateuch of the Cosmogony massively remixed by Mark Jenkins. A final goodie is a previously unheard instrumental from Canadian electro-pop legend Nash The Slash. Compiled by Mark Jenkins, Music for the 3rd Millennium Vol. 2 is available in a strictly limited, numbered edition of 1,000 with color sleeve photos and is bound to become a huge collectors' item for anyone interested in synthesizer, progressive or ambient music.
Mark Jenkins