INTERVIEW with Julian Ash of NLC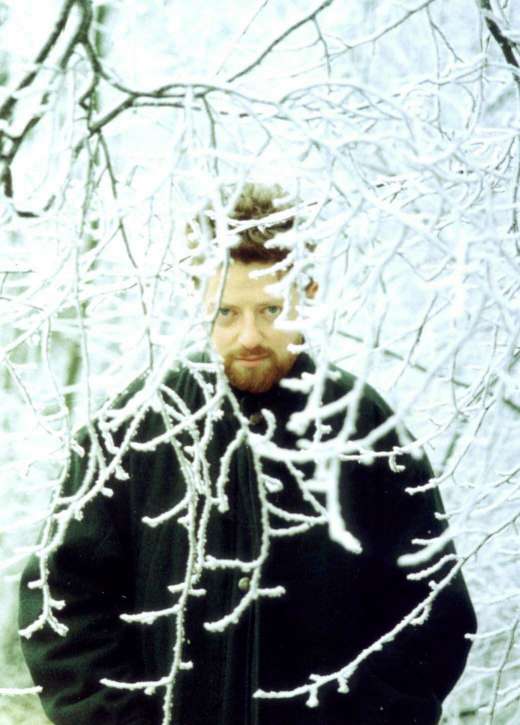 Q: When I first heard the music of NLC it seemed very different in concept and sound than any other music I had heard. What were the original rock or other musical artists that you listened to and liked in the beginning?
A: My favorite musicians at the time I founded NLC were Chrome, Coil, Again, Schubert, Bach, Legendary Pink Dots, Pink Floyd, Nurse with Wound and Thomas Kenner. The only concept was freedom; the sound was what we were able to do with our old sampler and a four-track tape recorder.
Q: Did any of these early favorites influence the style of NLC directly in your opinion?
A: Yes, I liked a lot Coil's moods and the melodic side of Pink Floyd and the Legendary Pink Dots. I think they influenced NLC's music directly, but as I said before, I didn't want to do any particular style of music, because I had not enough material to look like another real musician...
Q: When was the first production by NLC released?
A: Our first release was the CD single "Lost Sand Divinities" in May 1990. This release was quite a miracle, because we only wanted to record a tape, and as we had a friend running a label, he proposed to do a CD. It sold about 1,000 copies, that's the reason why I'm still doing music: not for money of course, but because some people seemed to like it.
Q: How did you decide on the name Nouvelles Lectures Cosmopolites?
A: When NLC started, we were two (Angustère and myself). The name comes from a local company called "Nouvelles Constructions Cosmopolites", that was quite a silly name we thought. So we called the "band" NLC, because of the NLCentrum, which was a great Dutch concert place, where a lot of our favorite bands played before.
Q: Can you translate that into English?
A: The meaning is something like "new cosmopolitan readings", that's still silly indeed!
Q: Is NLC a "group project", or more specifically your own unique musical vision?
A: Angustère left just after the double-tape boxed set "Période Taoïste", in December 1990. I released a solo album called "Incandescent", because he didn't know about his relation with music and composition at this time, and after he said he wasn't interested anymore in music, so as the solo album had a little success too, I decided to go on and call my solo project NLC. But everyone interested may bring sounds and ideas, so it's not really my own vision of music. A lot of people have collaborated during all these years!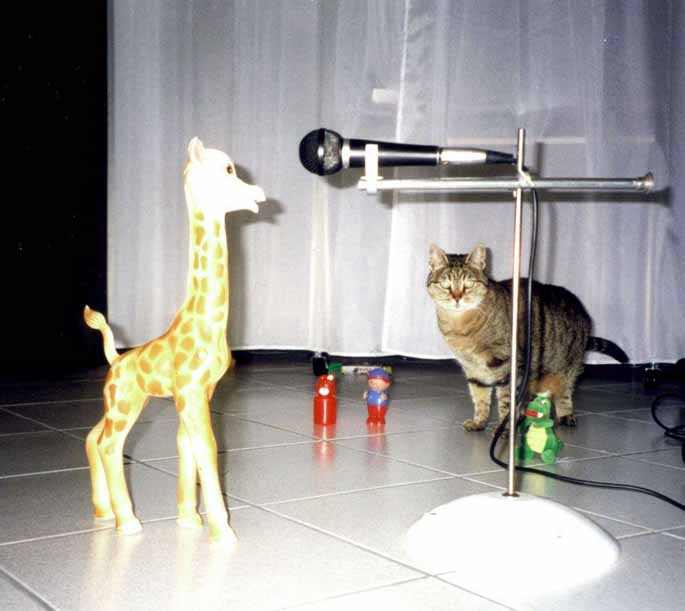 (NLC "Live in Concert")

Q: The music seems a fusion of many different styles and ideas. Do you think there are any specific modern musicians who influenced the music of NLC?
A: Sure, there are. A musician is like a medium: He just re-writes what he had felt or heard before. That's why I think the music of NLC is not mine, the best thing that may happen to this music is to be "stolen" again and again... And that's why I'm against copyrighting. If it were MY own music, nobody would have liked it.
Q: The music also seems to have gone through some changes over the years. Did you change your conceptual ideas for the music during this time?
A: No. My material has changed. I met different people. I had children... And I don't have any real concept about music!
Q: Can you give a list of all the productions done by NLC over the years?
Part I: Compact Discs
LOST SAND DIVINITIES (1990), INCANDESCENT (J. ASH) (1991), VESTIGES (1992)
ALLEGRO VIVACE (1993), ANGELS OF OïKEMA (1993), SPIRITUS REX (1994)
SECRET OF OïKEMA (1994), CLEAN (1995), UNCLEAN (1995)
UNIS (1996), LE SANG DE LA LICORNE (1997), LE SANCTUAIRE D'ïS (1997)
LE DOMAINE (1998), LE LANGAGE DES AUTRES (1998), ASD 002 - The Cereal Killer (1999)
FRAGMENTS TAOÏSTES (1999), UNIS (+ 3 bonus tracks) (1999), OÏKEMA (2000)
HIDING IN TIME (2000), MOON (2000), LA CARPE MIROIR (Le Lieu Noir) (3 CDs) (2000)
Part II: Vinyl LP's
LA MER DES SARCASMES (1995), LA MURE REINE (1995), L'AMIRAL RAMIREZ (1995)
L'AMARRE-AILE (1996), LA MORUE ENRHUMEE (1996), VENUS DE MILLE EAUX (1996)
Part III: Cassette Tapes
PÉRIODE TAOÏSTE 1 (1991), PÉRIODE TAOÏSTE 2 (1991), ECMNESIA (MAELSTROM) (1992)
KRIEGSTRAUM (1992), DIEU EST GROS (Triste Nuit Pour) (1992), SCHIZOLITHE (1993)
NAKED (1995), FRAGMENTS TAOÏSTES (1995), LE LANGAGE DES AUTRES (1997)
Q Do you make music full time, or do you have another career and do music as a purely an outlet for your artistic creativity?
A: I'm an M.D., I've just stopped working now to have more time with my family and on music too, but I don't live from music. In fact, I don't spend a lot of time really doing music. I'm also running the label, answering (often very interesting) questions (!!), working as sound engineer for other bands... I also enjoy a lot photography, painting, writing, cinema, nature, holidays... That's really too much, it was a real good idea not to work anymore! My work took all my time, and you can't really run such a job part-time, people always want you to be present night and day. And there is so much to do in a lifetime!
Q: What about future projects? Do you plan to try and be more commercially successful with NLC, or keep the music more as an artistic form of expression?
A: Well, I do not plan anything special, and certainly not to have any commercial success, there would be the same troubles as when I worked: I want to be quiet!! Music is really something I need to do, it's compulsive. And the way I'm doing it is very pleasant, because I haven't got any imperatives. I don't care about art, but it's one of my favorite forms of expression!
- Archie Patterson