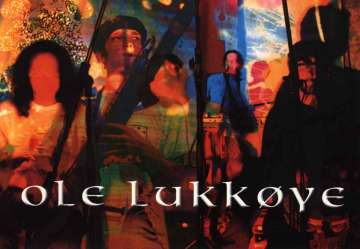 Ole Lukkøye INTERVIEW
For obvious reasons the Cold War served as a major artistic blockade when it came to East/West cultural and music exchange. In the West society and music underwent a drastic change during the '50's, '60's and '70's. What was going on in the Eastern bloc was only know via word of mouth and subterranean commerce between free radical musical elements. Today all that has changed drastically as rock music has become not only more widely disseminated worldwide, but homogenized as well. Such is the way of the world.
In particular one of the most interesting developments has been the opening of the vaults of the Russian rock archives. Many of the bands that recorded back in the '70's and '80's, are now getting their material reissued today. Even more importantly, current musicians from Russia (and elsewhere in East Europe as well) are gaining exposure in the Western world. As the West has become a corporate spawning ground for formulaic music and overproduction, the emergence of these new Eastern bands has brought a new burst of creativity to the scene.
One of the best new Eastern bands today is Ole Lukkøye from St. Petersburg, Russia. Their leader is Boris Bardash, who at one time was also a member of the legendary Russian band Rainy Season. Hans Joachim Irmler of Faust produced the latest Ole Lukkøye album, and this collaboration would seem to bode well for the future of the band.
The following interview with Boris was done after the end of their most recent dates in Germany, Hungary and Croatia.
Q: As a Westerner, I'm quite interested to know at what age and year did you first hear rock music in the former Soviet Union, and what was the first band you liked?
I was 11-12 years old (1976) when I became "ill" of rock music. In those times it was hard to find records from the west side of the world (they were just on the black market). Mostly we copied music from tapes to tapes (usually bad quality) ... Some names of bands: Beatles (of course), Rolling Stones, Led Zeppelin, Black Sabbath, Emerson Lake & Palmer, Deep Purple , Pink Floyd......
Q: When did you play in your first rock band, and what kind of music did they play?
We formed our first school band- Strangers - in 1979. We played cover versions of underground, but popular soviet bands like Time Machine, Aquarium and some western songs, but very soon we started to make our own music.
Q: Was there a scene back then for groups to play concerts, or in clubs, and make records?
It was a very hard situation for this type of activity, mostly concerts were half legal or unofficial. Of course there was an "official" big scene of sweet'n'stupid pop groups, but it was not really interesting for the more "progressive" young people.
That situation started to change in 1981 when the Leningrad Rock Club was founded. It gathered all best unofficial bands and made a real push to create a rock movement in USSR. But real changes came only with the start of the Gorbachev era in 1986.
Q: I know that you were formerly a member of Rainy Season. What RS albums did you play on?
We recorded first "tape" album of Rainy Season in 1986 (unreleased), but the music we made in the following years was unfortunately was not recorded in a studio. There is just one live compilation CD "Nostalgie" with our participation. All another "real" albums the band made were done after Andrey and I had left the band in 1989.
Q: During that era was that type of space rock music or progressive music well known in Russia? Was that before Glasnost, or after?
We had a lot of friends - real music fans and collectors, so we could find any music for listening. It was like a special circle of people. But really popular were mostly hard rock and heavy metal (like everywhere, I think). OK, anyway the most well known names here were Pink Floyd, King Crimson, Yes, Genesis, B. Eno, Jethro Tull, Van der Graaf Generator, Frank Zappa, Grateful Dead...and it was before Glasnost...
Q: In what year did you first form Ole Lukkøye?
Spring of 1989.
Q: Did you have any specific Western band that influenced the music you made with OL?
I was very influenced at that time by some solo works of Peter Gabriel (especially PASSION), Brian Eno, Jon Hassel, Dead Can Dance, Cocteau Twins...
Q: Does the name have an English translation?
The name is actually translated to Russian and relates to Danish and Swedish mythology. He was a Scandinavian type of pagan god of dreams. Literally it means something like "Ole who closes eyes".
Q: In Russia today is there a good audience for music by bands like yours and other electronic or experimental rock music?
Today the situation here is difficult for this music (not for Pink Floyd or such names of course). Mostly the scene consists of the big names of show business and the pop rock mainstream.
Q: Is there any media or radio that plays or promotes the sort of music OL makes in Russia today?
Not really. There are some small labels (for example Exotica in Moscow).
Q: Are there many other bands now in Russia playing this sort of "space rock" than there was originally, or is OL the main one?
I'm not sure that we play "space rock", but I don't know of any other bands here like OL.
Q: How did you make contact with the people from Faust?
After our concert at the Burg Herzberg Open Air Festival in Germany we got invited by the Think Progressive label to record a new album at Hans Joachim Irmler's studio.
Q: I imagine the good people of Faust have helped you quite a bit to get recognition outside Russia. How is the reaction different during concerts in Germany as opposed to Russia?
If you play in right place there is no big difference in reaction...We played just now also in Croatia, it was great. The audience gets more excited than in Russia or Germany.
Q: I believe you just played in Hungary. I know a couple other bands there that do some sort of space rock - Korai Orom and Galloping Coroners. Do you know these bands and perhaps do joint concerts together?
Yes. KO are our friends and they always help us to organize concerts in Hungary. We also set up a concert for them in St. Petersburg.
Q: Is there an actual scene and good size audience in the various East Euro countries today for this type of music?
Yes, I think so. We played several times in Hungary, in the Czech Republic, in Poland, in Slovakia, now (in April) in Croatia and found at every performance a very good reaction and new offers for more concerts.
Q: After the end of this tour when you return to Russia, what are your plans – a new studio album, more touring or?
We decided to spend this summer for our private lives and rest because we have not had a vacation for the 3 previous summers. Maybe we also will prepare something fresh in the studio...
- Archie Patterson