SUPERNATURAL FAIRY TALES
THE PROGRESSIVE ROCK ERA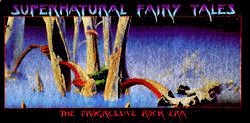 What is progressive rock?
A.) The most maligned genre in rock history.

B.) A term that inspires fear in the hearts of rock critics.

C.) The land of the dinosaurs that Johnny Rotten vowed to make extinct.

D.) An ambitious, rich, and essential branch of rock that has endured for nearly 30 years despite all that.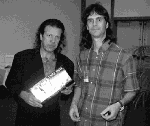 The answer, of course, is all of the above -- the latter conclusion borne by the dynamic contents of Rhino's Supernatural Fairy Tales: The Progressive Rock Era.
Three years in the making, this comprehensive five-CD collection is drawn from the near-decade-long period during which prog rock was reaching a peak of both creativity and global influence. And the box was released in August 1996 as prog enjoyed its biggest surge of popularity since those heady days.
Yeah, all you naysayers, you snooty critics, you might as well go cower in a corner -- Prog Lives!
And my my, hey hey, rotten Johnny: Who's the dinosaur now, with the you'll- never-see-me-in-a-reunion tour making its way around the globe?
With 53 tracks running the gamut from multiplatinum international stars (Emerson, Lake & Palmer, Genesis, Yes, Roxy Music, The Moody Blues, Electric Light Orchestra) to lesser known, but highly valued innovators (Can, Faust, Ash Ra Tempel, Gong), Supernatural Fairy Tales provides definitive proof that lumbering old prog-rock has survived quite well, thank you. In fact, the market for both reissues of prog-rock classics and new albums by young, prog-inspired musicians is experiencing a dramatic boom.
Today the originators of prog-rock are still on the forefronts of vital music. Genesis (represented here with two tracks, "The Musical Box" and "Dancing With The Moonlit Knight") gave us both Peter Gabriel and Phil Collins.
Brian Eno (whose synthesizer innovations are heard in this set on Roxy Music's "Ladytron" and "Virginia Plain" as well as on the track by Quiet Sun featuring fellow Roxy-ite Phil Manzanera) went on to reshape the sound of adventurous pop music as producer of key Talking Heads and U2 albums, as well as with his own trend-breaking recordings.
Jeff Lynne, cofounder of Electric Light Orchestra (the cheeky reworking of "Roll Over Beethoven") crafted the distinctive sounds of the Traveling Wilburys and fellow Wilburys Tom Petty and George Harrison, not to mention producing the "reunited" Beatles tracks "Free As A Bird" and "Real Love."
Onstage, The Moody Blues (the Timothy Leary tribute "Legend Of A Mind"), ELP ("Knife-Edge" and "Karn Evil 9: 1st Impression, Parts 1 &2") and Yes ("Perpetual Change" and "Siberian Khatru") are again among the most popular concert attractions.
And meanwhile, clear echoes of prog can be heard in everything from techno-rave (try the 1970 track "Searching" by Tangerine Dream member Klaus Schulze or Can's "Oh Yeah" alongside anything by such current faves as the Orb or Orbital) to contemporary classical (check out the offerings from Magma, Seventh Wave, and the Henry Cow/Slapp Happy collaboration).
Heck, even the fantasy landscape cover painting created by inimitable Yes artist Roger Dean -- the quintessential prog illustrator -- seems cooler today than, say, pink hair and safety pins through the cheek. In fact, Dean's company designed the box for Supernatural Fairy Tales.
See, prog was never a matter of fashion (thank Heaven, given the questionable style sense associated with its legion of fans), but of philosophy.
"For sake of definition, progressive rock is more than a specific style," writes Archie Patterson, the prog aficionado who handpicked the music on this set from his extensive personal collection, in his detailed notes that are included in the deluxe booklet accompanying the set. "Generally it has been characterized as having a classically influenced, symphonic, keyboard-dominated sound. In a broader sense, however, it was a state of mind that was shared internationally by a group of musicians. They all started with the beat, a guitar, and a keyboard, then grafted their own cultural influences onto that foundation. The results were distinctive and varied, but all shared the same open compositional style that allowed this new musical mode to mutate into many different sounds."
Of course, prog was and is to this day routinely slagged as pretentious, a term practically embraced in an affectionately humorous essay by Los Angeles Times music journalist Steve Hochman (a rare rock critic who actually admits to liking prog) that is also in the companion booklet, as are memories and comments by some of the artists. "Prog-rock is aimed at the brain, while blues-based rock is aimed at, well, another much-loved organ," Hochman writes. "Speaking from experience, the mysteries of the latter can be much more intimidating to many a teen-aged boy than the former."
Prog, notes Patterson, was truly a product of fecund times. Dylan and The Beatles had liberated rock, and musicians from all corners and cultures approached a new world of possibilities with a sense of wonder -- and, in some cases, irreverence -- to judge by the track which opens Supernatural Fairy Tales: Keith Emerson and The Nice's 1968 romping interpretation (or, to the piece's composer Leonard Bernstein, desecration) of "America" from West Side Story. The closing "Inca Roads" by cultural iconoclast Frank Zappa and his Mothers Of Invention shows the same disregard for convention, characteristically wry, sarcastic humor and astounding musical chops.
Thomas Koppel, conservatory-trained keyboardist of the Danish band The Savage Rose (whose "Dear Little Mother" can be found on Volume 3), remembers those times: "[Young people] were busy occupying buildings, taking over universities, demonstrating against the Vietnam War...and strange new music was shaking the ground, a quite different kind of avant-garde. 'It's Alright, Ma (I'm Only Bleeding),' 'Hey Joe,' freedom, freedom, freedom."
That climate gave rise to a wealth of experiments and perrnutations involving, for the most part, varying degrees of rock, classical, folk, and jazz elements and influences. Supernatural Fairy Tales covers the full range, from the classical-folk sweep of Renaissance's "Kings & Queens" and Curved Air's "It Happened Today" to the Baroque-ish contrapuntal tapestry of Gentle Giant's "Free Hand" to the hippie bliss of Gong's "Perfect Mystery" to the avant-garde minimalism of Faust's "It's A Rainy Day, Sunshine Girl."
And at its peak, the prog movement truly spanned the globe -- Italy's PFM, Banco, and Le Orme; France's Magma; England-via-Germany's Nektar; Greece's Aphrodite's Child (featuring future New Age star Vangelis); Finland's Wigwam; and Holland's Focus are among those who join the English acts that make up the bulk of the box.
"This is a cultural document of its time, this ten-year window where because of many different events, culture and music in particular flowered around the world," notes Patterson, who runs the prog-oriented record distribution service Eurock.
Perhaps it was inevitable that times and culture would change and that prog, mired in a morass of bloated egos and overinflated concepts (Spinal Tap got that part dead-on with "Stonehenge") would be swept away by a new generation of upstarts looking for their own definition of freedom.
Yet, against all odds, prog has transcended the times in which it thrived. "Great music," says Patterson, simply, "is timeless."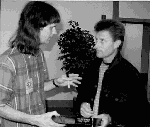 ---
53 TRACKS, 48 GROUPS, 5 HOURS OF MUSIC
Disc 1
The Nice | Traffic | Procol Harum | Pretty Things | The Moody Blues
Renaissance | Rare Bird | Pete Sinfield | Klaus Schulze | Kingdom Come
Disc 2
Aphrodite's Child | Atomic Rooster | Ash Ra Tempel | Van Der Graaf Generator
Can | Emerson, Lake and Palmer | Caravan | Curved Air | Focus | Wigwam
Disc 3
Yes | Argent | Roxy Music | SuperSister | The Savage Rose
Genesis | Electric Light Orchestra | Strawbs
Premiata Forneria Marconi | Emerson, Lake and Palmer
Disc 4
Genesis | Yes | Roxy Music | Wishbone Ash | Lard Free | Amon Duul 2
Strawbs | Nektar | Ange | Le Orme | Clearlight
Disc 5
Seventh Wave | Gong | Gentle Giant | Henry Cow | Samla Mammas Manna
Hatfield & The North | Banco | Magma | Faust | Quiet Sun
Golden Earring | Frank Zappa and The Mothers of Invention
---
Now Out of Print! However If You
Search the Net, Copies Are Out There...
---