RJ Stips INTERVIEW
Q: What was the first instrument you learned, and first band you played in?
I learned to play the piano from the moment (I was 4 or 5) my father had this budget – (un) wise crazy idea - to buy a wonderful grand piano. He played classical piano quite well himself and that was my inspiration: sitting underneath this 'cathedral of sound'. First I started finding out the keys and sounds myself and got lessons from when I was 8.
The first band was the school band called 'the Blubs' (!) which was the first seed out of which Supersister grew much later. Drummer Marco Vrolijk invited me for this school band in I think it was 1964, the other members followed later.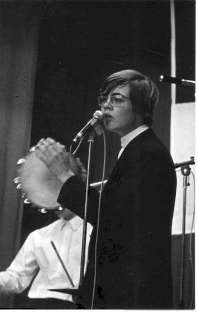 [RJ - Teen Heart Throb!]
Q: How and when did Supersister originally come to be formed?
When the original school band (the Blubs>>beat group the Provocation) had been turned on by the revolutionary ideas of new-member Rob Douw, we called ourselves Sweet OK Supersister, very crazy, very hip, with an almost unlimited line-up, with poets, performers, musicians and so on.
In 1969 we decided to concentrate on the music with just the four of us.
Q: I remember many good groups from Holland back in the 1970's. Was there a very active rock scene then in terms of clubs where bands could play live, festivals and so forth; or was it more of a small scene with groups mostly recording and playing live only occasionally?
No, there was a band playing live on every suitable occasion, parties, festivals, and clubs; in the 60's in The Hague (pop. 300.000) there were about 4,000 bands! One could here drum kits out of every other open window!
In the 70's it became more organized, club wise, mostly and bands expanding to abroad.
Q: Did Supersister and other such progressive bands actually sell many records?
Not really outrageously – we are but a small country; an average maybe of 20,000, 30,000, not regarding the hit records, then.
Q: What was Supersisters biggest selling record?
[Ask Polydor they don't know either!] As a matter of fact we had a very steady selling curve, they didn't differ much from each release-to-release. To be honest (again and again) we were more interested in the effect and respect our music caused than the actual selling figures – also the royalty percentage we had in our contract was as low as could be.
Q: What was your favorite Supersister record?
If there is one, it would be PRESENT FROM NANCY, because then we did everything for the first time, and as we all know: the first cut… We were so exited then to have the possibility of recording an album in a top (8-track…) studio – even though it had to be done in 4 nights between 24 and 6 o'clock in the morning, mixing included (!). I still remember some moments very strongly and often think back of how it felt and how much I want keep that mix of spontaneity, concentration, fun and seriousness alive while recording nowadays.
Q: Many, including myself find PUDDING & GISTEREN to be the most sophisticated album musically- perhaps the ultimate "progressive" album. It was done for a specific production I believe, can you tell us about the conception of that album - how long did it take you to write the music, rehearse, did you play it live along with the dance performances, etc…
We felt very honored to get an invitation from the Netherlands Dance Theatre.
to write and perform the music for one of their productions. The NDT was then and still is now a high standard company, world famous for their approach and performances of modern ballet. Frans Vervenne, the whole ballet being 'the story of his life', designed the actual choreography. He was also the one who came up with the title PUDDING & GISTERN for the ballet, which we adopted gladly for the music (it was weird enough to be a Supersister title…) as well.
(The title is originally a typical joke from the 50's. Everyone who grew up in the Netherlands in that decade knows it and just by remembering the joke –which was not a particular good one – one remembers the atmosphere of their childhood or younger years.)
If I remember well Ron van Eck and I designed all the little pieces / scenes behind the piano and it took about half a year to get the whole production going from ground zero on. The original ballet contained some small pieces that were cut out when recording the album.
We did about 7 performances and even though it was a success in Holland, the tour that would follow (Australia was one of the countries mentioned) was cancelled, as we suspect mainly because of non-artistic, personal and very much ballet-world-like reasons… Helas!
Q: At one point I lost track of Supersister and nothing more was heard. You released a solo album or two, and then some time later I discovered you had joined the Nits. Was there a particular reason the band broke up, or was it merely atrophy?
The way you jump through the years in this question would take me too long too correct, but there was more between Supersister and Nits (one can find out on my site www.stips.net) The reason we broke up was that we all felt a little lost after discovering we had given the best of what we had in store. Where we felt so sure before, doubt was creeping in and we decided to stop working in this line up, which wasn't easy, breaking up with friends with whom you shared so many great experiences.
Q: Was being with the Nits different than Supersister - did you compose music for them, or simply play?
The main way of working in the Nits was – especially after ADIEU SWEET BAHNHOF - writing while playing together. When there was an album to be made, most of the time we started out playing and recording almost everything on 2-track. After a week or two we mostly ended up with piles of tape from which we distracted the rough material and indications for the direction of the new album.
Besides that, Henk and I also wrote material at home and Henk wrote most of the lyrics parallel to the music coming together. This procedure was 'fruitful' till let's say dA dA dA, when Henk preferred to partly return to writing apart.
Q: You were on several Nits albums and did many tours with them I believe. Were they a commercially successful band?
Yes. But success was there mainly because of all the effort anyone involved with the band put into touring a lot. In the beginning we all invested years in playing, also when the record company wasn't too active. This paid off later and records slowly started to sell as well. The album – and single 'In the Dutch Mountains' created one of the few break outs caused by the 'record-side'. By then we already had created a large 'playing field' from Moscow to Canada and from Helsinki to Athens.
Q: The Nits experience was in another decade from that of Supersister. In terms of the Dutch music market (and business), how had it changed from the time of Supersister to the Nits - was it larger, bigger sales, more clubs and festivals, or less?
It was all larger and more mature. Everybody had more experience and examples of how to, or how NOT to do things, while in Supersister times we all still had to find out.
Q: Why did you leave the Nits?
I felt the opportunities of working and creating together were getting smaller, while the balance in the group wasn't as natural and steady as it had been before.
Q: Tell us about the SOSS label. I believe you are one of the owners. What led you to form your own label and how hard is it to obtain distribution for an indie label in Holland, or Europe in general?
The reason for forming an own label is simple: I want to keep my material together instead of having it divided over several labels through the years.
Working together with record companies is fine, but when they change personnel - and they often do, politics and 'artist-treatment' suddenly changes as well and that is sometimes hard to deal with.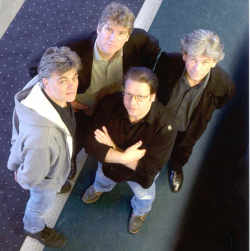 Q: In the last year or so you reformed Supersister, why did you decide to do that?
It wasn't a decision, and certainly not mine alone: we happened to get together for a sad occasion, our former manager and friend Dick Zwikker had suddenly died and we all knew we had to play for him at his funeral. So we did – together with Cesar Zuiderwijk (Golden Earring) who was also a close friend. We did a quick half an hour rehearsal the night before and everything felt so amazingly natural after almost 30 years that when we happened to receive the invitation for the LA ProgFest some months later, we were easily convinced to take the challenge.
Q: You amazingly finally played in America at the ProgFest in LA. How did that come about?
I simply got an (email) invitation of the organization.
Q: How was the ProgFest experience, was it your first trip to America?
For Supersister it was the first time ever. (I did several USA tours with Golden Earring) The experience on the LA trip was overwhelming, we never expected so many people coming from such unexpected parts of the world like Japan, Mexico, Italy… to be at present there, also hearing the stories of fans after the concert about their 'way of life with Supersister music…' really amazing.
Q: Has Supersister done other concerts since then?
After such a good experience we decided to not keep the Dutch fans out of this musical party, so in December 2000 we played the Paradiso in Amsterdam and in May we're doing 2 concerts in our hometown The Hague, back to where it all started.
Q: There was a "new" Supersister album released entitled M.A.N. that contained archive recordings. Do you have plans to record a new Supersister album, either live or in the studio?
There will be a live double album, recorded at the Paradiso.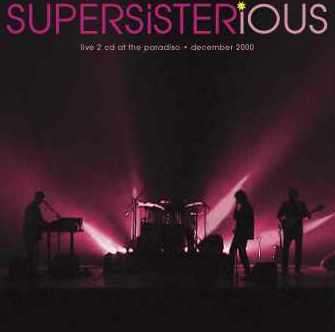 So far we avoided the subject of a new studio album because this is quite a decision. Once we go for that, the innocence of this whole reunion project will be lost and new responsibilities will take its place (recording budgets and promotional obligations will be pressing our shoulders again, things that are still far from what we are thinking of now: The fun of playing without any stress whatsoever, is a luxury not many musicians can experience.
Q: In some ways I find the music of Supersister, just as it was back in the progressive golden age, still to be lively and different from most anything else being done now. How do you feel today about whether it holds up creatively, and how after all these years you seem to have come back to your beginnings musically?
Normally I am not the kind of person to look back too long, but this whole Supersister revival is a greater treat than I ever expected – I am only too glad that the music we then made is more than worth to play again nowadays, with so much fun and appreciation. That makes it easy to push aside the need of working on new material, temporarily.
-Archie Patterson
[Editors Note: Since this interview, I'm saddened to report that group member Sacha van Geest, who's flute, sax and vocal work added wonderful sonic spices to Supersister's magnificent music has passed away. He will be greatly missed! May he R. I. P.. Today RJ continues to play keyboards and record with amazing Dutch Prog-Pop band The Nits.